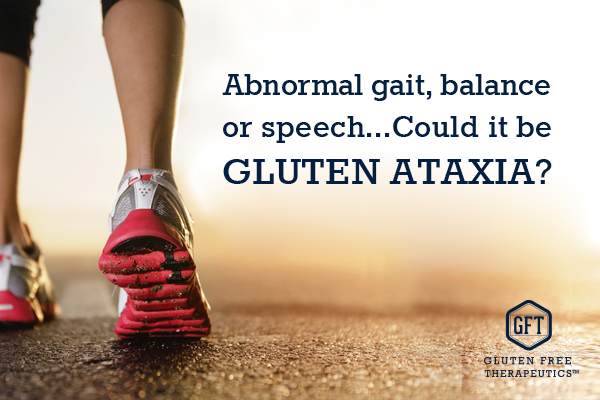 Celiac Disease, gluten sensitivity and Gluten Ataxia
Gluten ataxia is abnormal gait, posture or speech due to a reaction to gluten
Celiac disease has been associated with a host of autoimmune disorders, including conditions that affect the central nervous system. Of these, gluten ataxia is perhaps the one that has been most widely described. Gluten ataxia is a chronic condition that causes problems with balance and gait. It occurs when the antibodies that are produced in response to the ingestion of gluten attack the cerebellum, the portion of the brain located in the back of the skull just above your neck. The cerebellum plays a vital role in controlling movement, helping you coordinate the motions associated with activities like articulating speech, walking or running, as well as controlling posture and balance. In this article we discuss  the connection between celiac disease, gluten sensitivity and gluten ataxia.
Gluten ataxia progresses slowly, but left undiagnosed and untreated, the condition progresses, causing irreversible brain damage and lifelong problems with speech, motor control and balance. In fact, MRI studies indicate damage to and shrinkage of the cerebellum is not uncommon in patients with gluten ataxia.
The link between gluten and ataxia has only been demonstrated relatively recently, and not all doctors are aware of the potential association between gluten sensitivity or celiac disease and speech and balance and motor control problems. That means it's vitally important for people with gluten sensitivity and celiac disease to watch out for symptoms like dizziness, loss of balance and difficulty walking, or problems with articulation (pronouncing words) that could indicate the condition is present and to tell their doctors if they believe they're experiencing any signs of the condition. The opposite is also true, those with unexplained symptoms of ataxia should find out whether they have antibodies to gliadin using a blood test (a test used in the diagnosis of gluten sensitivity and celiac disease), and explore a possible diagnosis of celiac disease or gluten sensitivity.
In addition to ataxia, celiac disease has also been associated with a wide range of peripheral neuropathies, or numbness, tingling or shooting sensations in the hands and feet – that is, those nerves that exist outside of the spinal cord and brain. Most peripheral nerve symptoms are relatively mild and are confirmed by skin biopsy. A few, however, may cause weakness and sensory loss if left untreated.
Brain "fog" is another common complaint among celiac sufferers that may be associated with nerve and brain dysfunction, although no studies have been conducted providing a definitive link. The cerebellum has been implicated in some cognitive and learning processes, so it's not unreasonable to assume that the same sort of effect that causes ataxia also contributes to problems with cognition, memory or "clear thinking." In fact, a study conducted by the Mayo Clinic came to the same conclusion in a study of celiac disease and cognitive decline. Another study published in 2014 found patients with celiac disease who complained of brain fog improved markedly when placed on a gluten-free diet.
Being vigilant and talking with your doctor about any unusual symptoms you experience is an integral part of maintaining your health, and so is supporting good nutrition. Since the bowel is already compromised, absorbing nutrients from foods becomes much more problematic in patients with celiac disease, yet the body needs optimal nutrition to help it fight the effects of the disease and to function normally. Taking nutritional supplements is an important way to ensure your body isn't missing out on critical nutrients that may not be readily available in a gluten-free diet. CeliVites were developed using the most bioavailable forms of nutrients so you can feel confident your body is getting the best nutrition possible. Read more about CeliVites and the science behind the supplements on our website.
---
This original article is made possible by Gluten Free Therapeutics. Our mission is to educate, inform, and provide the most effective nutritional products possible to allow those with celiac disease and serious gluten intolerances to heal their bodies. CeliVites complete line of superior gluten free supplements includes multivitamin/multimineral supplements, iron supplements, and calcium supplements for people living with celiac disease. All CeliVites products are designed to help you heal, restore and rebuild your body, because going gluten free isn't enough! 
---
Comments ()