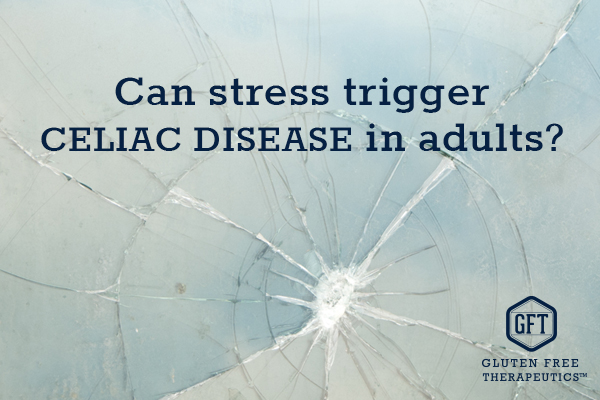 Potential Adult Celiac Triggers
 by Alex Reis PhD, GFT science writer
Celiac disease has a strong genetic component, but it's curious to note that the two versions of genes associated with this condition are also found in about one-third of the general population. Considering that for those people it's virtually impossible to "escape" gluten and yet only 1% develop celiac disease has raised intriguing questions about what other factors may trigger the onset of this disease.
Many studies have shown that celiac disease has been increasing over the past 50 years. Researchers believe this is not only caused by better diagnostic tools, but an actual increase in the number of people affected by this condition. As human genetics cannot change this quickly – which means the overall number of potential celiac disease patients remains stable – the boost must be due to changes in the triggers that cause the condition. It turns out that, for adults, the list includes not only infections, but also head trauma or even the bread we eat.
Not surprisingly given that celiac disease is an auto-immune condition, any recurrent illness or infections can trigger the development of celiac disease. The list of diseases includes HIV, thyroid disease, cardiomyopathy, diabetes, hepatitis and others. These conditions are likely to elicit a chronic immune stimulation, which in turn may trigger an immune reaction. When it comes to infections, researchers believe these conditions can "help" gluten peptides cross the intestinal barrier, and activate an immune response in susceptible individuals. It's certainly not uncommon for patients to attribute the onset of their symptoms to a stressful episode or infection.
It doesn't even have to be a life-threatening infection. For example, researchers have identified that a mild fungal infection with C. albicans can be sensed by the immune system in a similar way to the presence of gluten, which can trigger celiac disease in genetically-predisposed individuals. Other times, like with antibiotics, it's not the infection per se, but the treatment that acts as a trigger. This seems to be the case with hepatitis, where popular treatments, particularly IFN-α, may set in motion this condition due to their effect on the immune system.
However, not all invading pathogens are actually bad … if present in small doses! Researchers have detected an inverse relationship between H pylori infection and risk of celiac disease. Serious infections can result in permanent gastric problems including ulcers, but it turns out low numbers of this bacteria can have a protective effect against the development of celiac disease. In this case, it's their absence that represents the trigger for this condition. Again, the mechanism is not known but, if kept under control, this bacteria is associated with lower risks of allergic and inflammatory conditions.
Interestingly, what can be classed as an unexpected trigger for celiac disease involves cases of head trauma. It may be tempting to suggest that this is simply due to the rigorous medical surveillance after any serious accident or injury involving the head. Long term contact with physicians may lead to the detection of other unrelated conditions, including celiac disease.
However, the same effect is not observed with other types of equally dangerous accidents. After any injury, the body reacts against the inflammation by activating an immune response. The problem with this particular response to brain trauma is that it relies on a substance very similar to the one elicited by gluten. In a moment of "temporary confusion", as the body reacts to one, it may also start reacting to the other and trigger celiac disease.
Finally, many researchers blame changes in our diet during the last half-century to explain the rise in the number of celiac disease patients. The main culprit: bread! This includes many changes in the process of making this food, from genetic selection in the wheat used resulting in varieties with a much higher gluten content to enzymatic modification of wheat prolamins caused by changes during mass production.
What's important to note is that diagnosis as an adult really is a new onset of disease potentially triggered by one of these factors, and not simply a matter of delayed diagnosis of a childhood condition. The list could go on and there are several other factors currently seen as tentative triggers for celiac disease, including low birth weight, gender or educational level. More research is needed, but this long list only serves to emphasise how multi-factorial this condition is and how describing it as a simple auto-immune condition is a massive understatement.
---
This original article is made possible by Gluten Free Therapeutics. Our mission is to educate, inform, and provide the most effective nutritional products possible to allow those with celiac disease and serious gluten intolerances to heal their bodies. CeliVites complete line of superior gluten free supplements includes multivitamin/multimineral supplements, iron supplements, and calcium supplements for people living with celiac disease. All CeliVites products are designed to help you heal, restore and rebuild your body, because going gluten free isn't enough! 
---
REFERENCES
Akbari P, Braber S, Gremmels H, Koelink PJ, Verheijden KA, Garssen J, Fink-Gremmels J6. Deoxynivalenol: a trigger for intestinal integrity breakdown. FASEB J. 2014;28(6):2414-29.
Canova C, Zabeo V, Pitter G, Romor P, Baldovin T, Zanotti R, Simonato L. Association of maternal education, early infections, and antibiotic use with celiac disease: a population-based birth cohort study in northeastern Italy. Am J Epidemiol. 2014;180(1):76-85.
Ludvigsson JF, Hadjivassiliou M. Can head trauma trigger celiac disease? Nation-wide case-control study. BMC Neurol. 2013;13:105.
Riddle MS, Murray JA, Cash BD, Pimentel M, Porter CK. Pathogen-specific risk of celiac disease following bacterial causes of foodborne illness: a retrospective cohort study. Dig Dis Sci. 2013;58(11):3242-5.
Riddle MS, Murray JA, Porter K. The incidence and risk of celiac disease in a healthy US adult population. Am J Gastroenterology. 2012; 107(8):1248-1255.
Rubio-Tapia A, Kyle RA, Kaplan EL, et al. Increased prevalence and mortality in undiagnosed celiac disease. Gastroenterology. 2009;137(1):88–93 Stene LC, Honeyman MC, Hoffenberg EJ, et al. Rotavirus infection frequency and risk of celiac disease autoimmunity in early childhood: a longitudinal study. Am J Gastroenterol. 2006; 101:2333–224
Comments ()