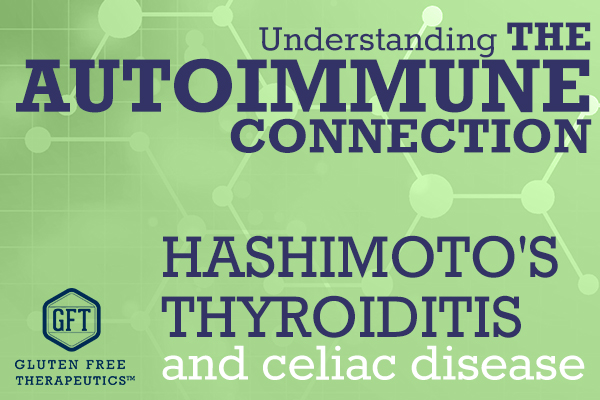 Hashimoto's thyroiditis and celiac disease: The nutritional link
If you suffer from an autoimmune disease, you know proper nutrition can play an important role in maintaining good health. But did you know that having one autoimmune disease makes you more likely to develop another immune-related disorder? It's true, and often, people with one autoimmune disease don't realize that some of their symptoms may be due to a completely different underlying condition.
One of the best examples of one disease's symptoms mimicking or masking another disease's symptoms can be seen in the relationship of celiac disease and Hashimoto's thyroiditis. Data indicate about four to six percent of patients with celiac disease also have Hashimoto's thyroiditis, a condition that causes the immune system to attack the thyroid gland, the butterfly-shaped gland located beneath your larynx. Over time, the immune system can destroy the gland, impairing the body's ability to produce important hormones.
The symptoms of Hashimoto's thyroiditis can vary markedly, and can include sleeplessness and fatigue, anxiety, depression, change in weight, joint and muscle aches and pains, sensitivity to cold, and hair loss. Some patients may also experience swelling in the neck area; a few experience no symptoms at all. Some of these symptoms are also very common to celiac patients without thyroiditis making accurate diagnosis challenging. It is recommended that health care providers are aware of the relationship between these two diseases in order to properly prescribe treatment protocols.  Hashimoto's thyroiditis is a progressive disease that when caught in the early stages can be well controlled, just as celiac disease can be controlled by proper diet and nutritional supplementation.
Getting proper nutrients can play a big role in helping to treat thyroid disorders and diseases, including Hashimoto's thyroiditis. The problem is, when celiac disease is also in the picture, your body may be prevented from absorbing those nutrients, which means the effects on the thyroid can become much worse. While taking supplements can be a great solution, the key is finding supplements that are produced specifically for people with celiac disease. Why? There are two reasons: First, because celiac disease damages the lining of the small intestine where many nutrients are absorbed, the body simply does not have access to nutrients from supplements that don't include nutrients with high bioavailability. And second, because many common brands of supplements are processed by big manufacturing facilities that handle lots of products, they're a very high chance those supplements will become contaminated by gluten, making them even more indigestible.
CeliVites supplements by Gluten Free Therapeutics were developed specifically to meet the nutritional needs of men and women with celiac disease. As the mother of an adult child with celiac disease, Leigh Reynolds, President of Gluten Free Therapeutics, understands the problems with ensuring proper nutrition. In addition to her child, several other family members also deal with the disease and related immune system issues giving the staff at GFT unique insights into these issues.
"Gluten Free Therapeutics was founded to help address the problem of nutritional deficiency in celiac patients by providing a source of readily absorbable, gluten-free nutritional supplements aimed at improving both the health and quality of life of those who suffer from the disease," she said. The site is also filled with of research-backed information to help educate celiac patients about their disease.
If you suffer from Hashimoto's thyroiditis, celiac disease or both, getting the nutrition you need is critical to staying healthy. To learn more about CeliVites and to see the complete line of Gluten Free Therapeutics supplements and nutritional products, visit the company website or follow GFT on Facebook or Twitter. And to learn more about Hashimoto's thyroiditis, visit the website of the American Thyroid Association.
---
This original article is made possible by Gluten Free Therapeutics. Our mission is to educate, inform, and provide the most effective nutritional products possible to allow those with celiac disease and serious gluten intolerances to heal their bodies. CeliVites complete line of superior gluten free supplements includes multivitamin/multimineral supplements, iron supplements, and calcium supplements for people living with celiac disease. All CeliVites products are designed to help you heal, restore and rebuild your body, because going gluten free isn't enough! 
---
Comments ()