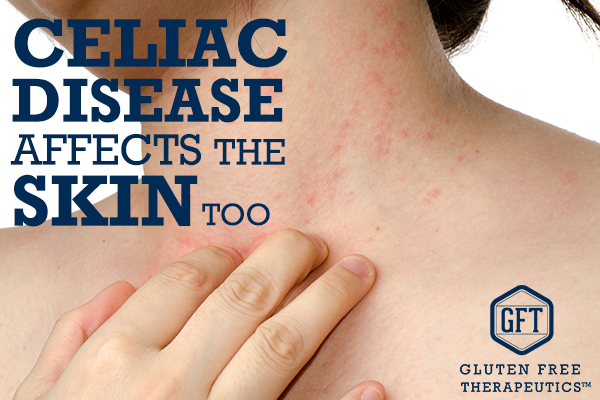 Dermatitis Herpetiformis – what is it?
Most people recognize celiac as the "gluten disease" that affects the small bowel. But what few many also realize is that celiac disease can cause many other effects that can be difficult and even painful to live with, including dermatitis herpetiformis (DH). Dermatitis herpetiformis is the skin manifestation of celiac disease that affects from 15 percent to 25 percent of celiac patients, causing a rash that is itchy, with weeping blisters on the scalp, back, elbows, knees and buttocks. Interestingly, although DH is directly related to CD, many people who have DH have no digestive symptoms of CD, making it very difficult to diagnose; in fact, more than 95 percent of DH cases are misdiagnosed as eczema. DH is often the symptom that many children have prior to diagnosis. But can manifest itself at any age.
Here's how CD and DH are related:
In celiac disease, consuming products that contain gluten triggers an immune response that causes an antibody called immunoglobulin A (IgA) to form. In a healthy person, IgA provides the mucosal membranes with an important barrier to pathogens. But in a person with CD, IgA causes an allergic reaction to occur. In most people with CD, the primary organ affected is the small bowel. In people with DH, IgA primarily affects the skin, collecting in the tiny blood vessels just beneath the skin's surface and causing itchy blisters to form. At least one study has shown that both CD and DH share a common antigen called HLA-DQ.
DH Diagnosis and Treatment
In the absence of digestive problems, there are ways to diagnose DH without a bowel biopsy. First, DH blisters cause intense itching, much like poison ivy. Second, blisters occur most commonly on both sides of the body on the forearms, knees and buttocks, although they can appear elsewhere in some people. And finally, the blisters form in small groups resembling herpes formations.
DH is more common and those of northern European ancestry and is slightly more common among men, who may also have oral or genital blistering.
Ultimate diagnosis is made by a skin biopsy, a small sampling of skin tissue that's examined under a microscope using a dye that causes IgA to fluoresce. Blood tests for other antibodies present in CD can help confirm the diagnosis if necessary. Other autoimmune diseases such as thyroid disease, Addison's disease, Sjogren's syndrome, lupus erythematosus and osteoarthritis may also be present.
As with CD, the primary way to treat DH is by following a strict gluten-free diet. Most patients find that their skin legions will disappear  after a period of time on a gluten free diet.  In some cases, the drug dapsone may be needed to control blister outbreaks. And of course, optimizing health by taking nutritional supplements to compensate for nutrients that are not easily absorbed in people with CD is critically important.
CeliVites from Gluten Free Therapeutics have been especially formulated for greater bioavailability, and they are completely gluten-free. To learn more about CeliVites, visit the product webpage.
---
This original article is made possible by Gluten Free Therapeutics. Our mission is to educate, inform, and provide the most effective nutritional products possible to allow those with celiac disease and serious gluten intolerances to heal their bodies. CeliVites complete line of superior gluten free supplements includes multivitamin/multimineral supplements, iron supplements, and calcium supplements for people living with celiac disease. All CeliVites products are designed to help you heal, restore and rebuild your body, because going gluten free isn't enough! 
---
Comments ()