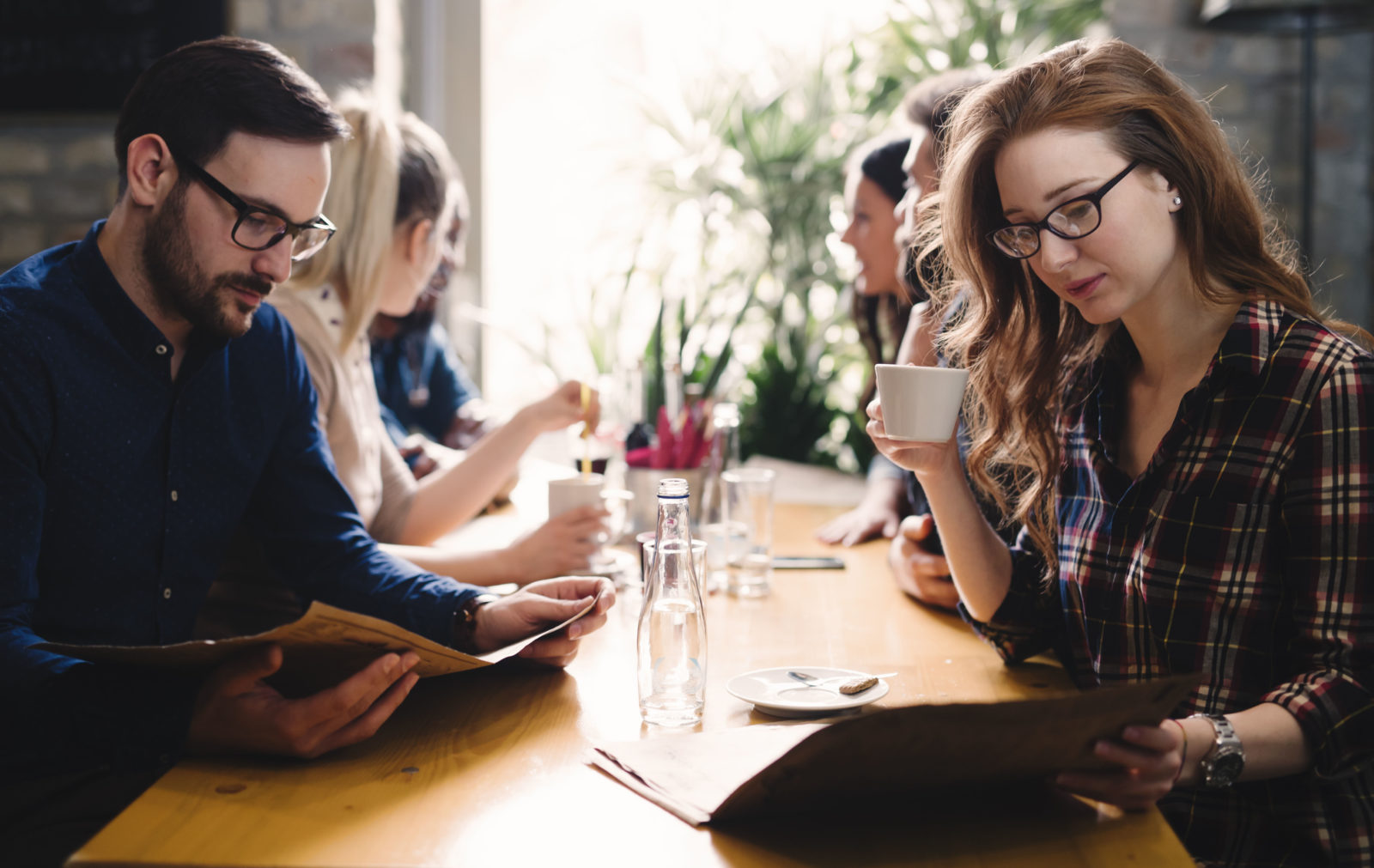 The social side of living with celiac disease
Dealing with celiac disease (CD) is multifaceted. One factor that makes celiac disease both challenging and yet possible to manage is that it is controlled by our food choices. Everyone has to eat, and food is often the center of the social events. Think of dinner with friends, dating, watching sports with friends, and especially at this time of year, holiday parties and family gatherings… Those with celiac disease need to control what they eat at all times regardless of where and when it is eaten. This seemingly innocuous task actually involves a complex set of components to manage and think about. We find there is little written about the social side of living with celiac disease. Importantly, while the social aspect impacts both our emotional health and our ability to stay safe, it is not talked about and little understood by those outside of the celiac family.
Celiac can be very isolating. We find that to protect our bodies from gluten contamination we sometimes withdraw from everyday events. We go into a proactive protective stance. Events we used to participate in with joy are now a cause for concern and stress. Here are some typical examples of what it feels like to manage the social side of CD.
Family and Friends
These are the people who love us. They want to help; they try to help. Even so, it can often end badly. How do we tell a friend who continues to make "GF" treats in her non-gluten free (GF) kitchen you cannot eat them due to cross contamination? Our friends mean well and often think that if they use GF ingredients, there is no problem. If only it were that simple. And yes we can train our closest friends on how to decontaminate their kitchens, and some will get it. But for the most part, a well-meaning casual acquaintance will not understand if you say no thank you to the treats they made for just for you. While attending parties out of respect for our host, we have resorted to stealthy placing a napkin wrapped, baked from scratch just for us gluten free cookie into our purse for later disposal. Or we thank the person hoping that they don't see when we do not eat, but of course, they notice. It can be an awkward situation as it is almost impossible for those without the disease to understand the facility with which and the ramifications of "getting glutened." We don't want to hurt the feelings of those who love us or look unappreciative, or worse neurotic, to those who make a special effort for us. Protecting our bodies can seem like we are not protecting our relationships. We should not have to choose. But often we do. So we find that perhaps it is easier if we just say no…. No to the going to the party, no to eating someone else's food, no to participating in the event. While isolating oneself is a natural response to a real threat, this is where the isolation can come in and perhaps the depression. We all have to choose what works for us and honestly finding those willing to go out of their way to eat at your specially chosen safe GF restaurant is an excellent screen for those that actually care about you. We find that with time and patience our loved ones learn what will work for family gatherings and will find ways to make everyone safe and happy. Family gatherings can go from being stressful to fun again with the understanding and cooperation of all.
The workplace
Why include the workplace as a social aspect of CD? The workplace can be filled with opportunities for gluten contamination. Sharing a kitchen, a bathroom, a lunch table, and workspace needs to be carefully considered and managed. Most people we work with have heard of CD now that it is has become mainstream, but we find few who understand contamination exposure. Then there are the meetings with snacks and doughnuts, birthday parties with cake, and of course non-optional company events we have to attend. Here too are the well-meaning people who make sure there is something gluten free(GF) at the gatherings. It is thoughtful but we all have our own tolerance for cross contamination and who knows how that food was prepared.
We find the best way to protect ourselves is to be open with the team we interact with daily and bring our own food or just refrain from eating until we are at home. Even a meeting snack can be controlled if there is fruit or GF snack bars in your desk for emergencies. Most importantly, feel that you can say no to events to protect your health, everyone deserves that freedom.
Dating and beyond
Starting a new relationship with CD can challenge. When do you tell the new guy (or girl) about your condition? Will it put them off if you tell them too soon? A lot of dating life is also centered around food and eating. The first date is all too often a dinner, lunch or coffee date. When and how much to tell is all part of getting to know a new dating partner. When that special moment comes, and your new partner is moving in for the kiss! It can kill the moment to have to utter, "um, sorry, but can you brush your teeth first? " And beyond … We have been lucky enough to find that special person who loves us, and our CD is no big deal. The relationship moves to getting married and perhaps starting a family. That discussion is also very personal and can only be determined by the people involved. But there are considerations regarding children that we may want to discuss openly. There are the genetics component and the issue of potential infertility that accompanies CD. It should not deter you from having a family, but it is good to talk about it. Be open to sharing all aspects of CD with your new life partner.
Living a full life
While it may sound overwhelming and it seems impossible, we know many people leading a beautiful, happy, healthy, productive and complete lives with celiac disease. Indeed we are among them. We found the key is to be proactive, stick up for one's self, learn and always plan ahead. Knowing the key to our good health is a gluten free diet is empowering because we are in control. There are no drugs with side effects needed. If we stay completely gluten free our health rebounds and we feel terrific. It can take time to negotiate the social landmines we face but we can do it. And it feels great!
---
Additional articles you may find helpful:
---
---
Comments ()