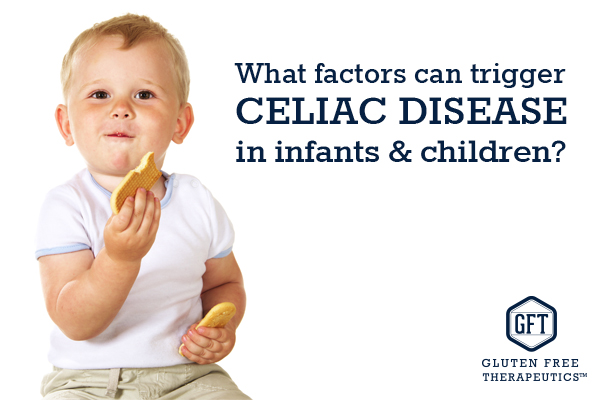 Celiac Triggers for Children
by Alex Reis PhD, GFT science writer
Celiac disease has a strong genetic component, but it's curious to note that the two versions of genes associated with this condition are also found in about one-third of the general population. Considering that for those people it's virtually impossible to "escape" gluten and yet only 1% develop celiac disease has raised intriguing questions about what other factors may trigger the onset of this disease.
For susceptible infants and young children, there are several factors that may tip the balance towards celiac disease. These include not only the obvious age at which gluten is first introduced, but also other less evident factors such as infections during those early years and even mode of delivery or season of birth.
Literally from the day they're born, infants at risk are surrounded by triggers that could mean a life-time of potential complications and a gluten-free diet. Elective (but surprisingly not emergency) caesarean sections, for example, seem to be associated with a higher risk of celiac disease later in life. It seems this dramatic way to come out may disturb the development of a normal immune system.    
In addition, infections during these early stages, especially if overlapping the introduction of gluten during weaning, may be particularly dangerous to kick off the disease. Studies have shown that multiple episodes of infections (both viral and bacterial) before 6 months of age significantly increase the risk of celiac disease, regardless of the type of infection.
The exact mechanism is still a mystery, but it is likely these infections open the doors to celiac disease via increased intestinal permeability or an exaggerated reaction to gluten. A third option unfortunately involves the accepted treatment for most infections: antibiotics. Typically, physicians believe the more courses of antibiotic treatments, the higher the risk of developing celiac disease. Some have even gone as far as speculating that the increase in celiac disease observed over the past 50 years was caused by easy access to antibiotics, in the past readily prescribed for every infection. As doctors become stricter with their antibiotic prescriptions, it will be interesting to see if there is a drop in the number of patients suffering from celiac disease in the future.
Despite not knowing exactly how, researchers do know the target for these triggers: gut microbiota. After all, it is well-established that intestinal bacteria can influence the development of the immune system, leaving those with an unbalanced microbiota due to infections at a higher risk of developing celiac disease.
Curiously, being born during the summer months also carries a higher risk of developing celiac disease. This may sound surprising, but it goes back to risk of infection which these babies are more likely to experience as they're weaned and introduced to gluten during their first winter.  In addition, these summer babies also spent a large proportion of their life in utero during the winter, when there is a greater risk of infections for the mother. 
This seasonal effect was only spotted in new cases diagnosed in babies under 2 years of age, but date of birth had no impact in cases developed at later stages. This seems to suggest that the impact of potential triggers can change throughout life, further complicating our understanding of this condition.  
In our recent post Potential Adult Celiac Triggers, we expand our examination of triggers to adults.
---
This original article is made possible by Gluten Free Therapeutics. Our mission is to educate, inform, and provide the most effective nutritional products possible to allow those with celiac disease and serious gluten intolerances to heal their bodies. CeliVites complete line of superior gluten free supplements includes multivitamin/multimineral supplements, iron supplements, and calcium supplements for people living with celiac disease. All CeliVites products are designed to help you heal, restore and rebuild your body, because going gluten free isn't enough! 
---
References:
Canova C, Zabeo V, Pitter G, Romor P, Baldovin T, Zanotti R, Simonato L. Association of maternal education, early infections, and antibiotic use with celiac disease: a population-based birth cohort study in northeastern Italy. Am J Epidemiol. 2014;180(1):76-85.

Ivarsson A, Hernell O, Nyström L, Persson LA. Children born in the summer have increased risk for coeliac disease. J Epidemiol Community Health. 2003;57(1):36-9.

Lebwohl B, Green PH, Murray JA, Ludvigsson JF. Season of birth in a nationwide cohort of coeliac disease patients. Arch Dis Child. 2013;98(1):48-51.

Mårild K, Ludvigsson J, Sanz Y, Ludvigsson JF. Antibiotic exposure in pregnancy and risk of coeliac disease in offspring: a cohort study. BMC Gastroenterol. 2014 Apr 14;14:75.

Mårild K, Stephansson O, Montgomery S, Murray JA, Ludvigsson JF. Pregnancy outcome and risk of celiac disease in offspring: a nationwide case-control study. Gastroenterology. 2012;142(1):39-45.e3.

Myléus A, Hernell O, Gothefors L, Hammarström ML, Persson LÅ, Stenlund H, Ivarsson A. Early infections are associated with increased risk for celiac disease: an incident case-referent study. BMC Pediatr. 2012;12:194.

Stene LC, Honeyman MC, Hoffenberg EJ, et al. Rotavirus infection frequency and risk of celiac disease autoimmunity in early childhood: a longitudinal study. Am J Gastroenterol. 2006; 101:2333–2240

Welander A, Tjernberg AR, Montgomery SM, et al. Infectious disease and risk of later celiac disease in childhood. Pediatrics. 2010; 125:e530–e536
Comments ()