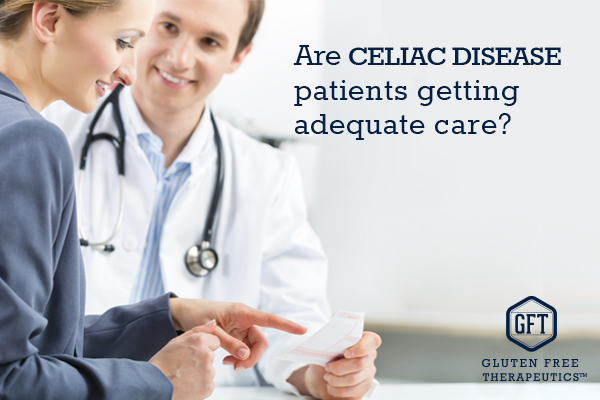 What do celiac patients need from their doctor?
by Alex Reis PhD, GFT science writer
For most patients, the reality of receiving a diagnosis of celiac disease opens up a flood of questions.  The recognition that celiac disease (CD) is a lifelong disorder is an important first step in patient awareness.  Patients have to deal with a life-long condition and a seemingly endless list of possible complications including dermatitis herpitiformis, rheumatoid arthritis, hashimoto's thyroiditis, and multiple sclerosis to name just a few.  It is therefore critical that these patients receive adequate care early on from their healthcare providers.
It's only natural that they turn to their physician for advice and information. Ideally, this patient/physician relationship should involve a two-way communication, with doctors sharing the latest information about celiac disease and patients actively involved in decisions concerning their care. It is important that patient support and information should be an integral part of the management of CD, and is likely to affect the successful management of CD.
However, this is not always the case.
"A recent review showed that about

one in four patients with celiac disease has reported being unhappy and frustrated with the amount or quality of information provided by their doctor."
Perhaps more worryingly, some patients also expressed concerns regarding the information offered by their dietitian. And that patient support may have a direct bearing on levels of or likelihood of successful adherence to a gluten-free diet (GFD)
Whenever possible, the first information about CD and treatment with a GFD should be given at time of diagnosis, or shortly thereafter. Adherence to a GFD requires education, attention and time. Currently, the GFD constitutes the only available treatment for CD. It is therefore crucial that the patient understands the role of GFD in order to achieve a high dietary adherence. Ideally information on GFD should be given in collaboration with a dietitian.
Sometimes the system fails to recognise that giving information is not just a matter of "dumping" leaflets on to patients or referring them to the internet without proper guidance. It's essential to identify what kind of support each patient needs, as the condition may be the same, but each person has taken a different journey to get to their diagnosis.
Some patients may have undergone extensive investigations after symptoms for many years, while others could have been diagnosed through a screening. For some, a diagnosis of celiac disease can provide relief, but for others the idea of a life-long disorder can mean shock, or even the burden of a gluten-free diet for a condition for which they have no symptoms.
Without adequate support, understanding and following a gluten-free diet may become an unsurmountable obstacle. This can be difficult both for patients with severe symptoms overwhelmed with learning the new diet, as well as for patients diagnosed through screening faced with a restrictive diet to improve symptoms they never experienced. In these cases, the emphasis needs to be placed carefully, looking at limiting current symptoms or reducing future complications according to the patient's needs.
The potential of future treatments is also one of the topics patients most often want to discuss with their physicians. Rather than be seen as questions about the impossible, explaining alternatives to dietary treatment can actually provide an opportunity for a discussion about the characteristics of celiac disease, but it's vital that physicians are interested and up-to-date with the latest discoveries.
Enlightened care is possible
Ultimately, all celiac disease patients wish for is high-quality information and access to a physician/dietitian with expertise and an interest in the condition. This may not always have been the case, but at least physicians are finally becoming aware of the problem. Instigated by some forward-thinking doctors, there seems to be a wind of change blowing through the medical community with groups strongly urging to make patient support an integral part of the management of celiac disease. Ultimately this will mean superior care, as they defend that the better the support and quality of the information provided, the easier patients can follow a gluten-free diet.
Patients that once felt helpless and ignored can now have the courage to demand answers to their questions. It's certainly not unreasonable for patients to seek enough time with their physicians and dietitians to get the information they need.
---
This original article is made possible by Gluten Free Therapeutics. Our mission is to educate, inform, and provide the most effective nutritional products possible to allow those with celiac disease and serious gluten intolerances to heal their bodies. CeliVites complete line of superior gluten free supplements includes multivitamin/multimineral supplements, iron supplements, and calcium supplements for people living with celiac disease. All CeliVites products are designed to help you heal, restore and rebuild your body, because going gluten free isn't enough! 
---
REFERENCES
Bebb JR, Lawson A, Knight T, et al. Long-term follow-up of coeliac disease—what do coeliac patients want? Aliment Pharmacol Ther 2006; 23: 827–831.

Ciacci C, Iavarone A, Mazzacca G, et al. Depressive symptoms in adult coeliac disease. Scand J Gastroenterol 1998; 33: 247–250.

Jacobsson LR, Friedrichsen M, Göransson A, et al. Impact of an active patient education program on gastrointestinal symptoms in women with celiac disease following a gluten-free diet: A randomized controlled trial. Gastroenterology Nurs 2012; 35: 200–206.

Lee AR, Ng DL, Diamond B, et al. Living with coeliac disease: Survey results from the USA. J Hum Nutr Diet 2012; 25: 233–238.

Lee AR, Ng DL, Zivin J, et al. Economic burden of a gluten-free diet. J Hum Nutr Diet 2007; 20: 423–430.

Leffler DA, Edwards-George J, Dennis M, et al. Factors that influence adherence to a gluten-free diet in adults with celiac disease. Dig Dis Sci 2008; 53: 1573–1581.

Ludvigsson J, Card T, Ciclitira P et al. Support for patients with celiac disease: A literature review. United European Gastroenterology Journal 2014; 3:146-159

Ludvigsson JF, Green PH. Clinical management of coeliac disease. J Intern Med 2011; 269: 560–571.

Ring Jacobsson L, Friedrichsen M, Göransson A, et al. Does a Coeliac School increase psychological well-being in women suffering from coeliac disease, living on a gluten-free diet? J Clin Nurs 2012; 21: 766–775.

Sollid LM, Khosla C. Novel therapies for coeliac disease. J Intern Med 2011; 269: 604–613.

Tomlin J, Slater H, Muganthan T, et al. Parental knowledge of coeliac disease. Inform Health Soc Care. 2014 [Epub ahead of print]

Ukkola A, Maki M, Kurppa K, et al. Patients' experiences and perceptions of living with coeliac disease—implications for optimizing care. J Gastrointestin Liver Dis 2012; 21: 17–22.

Whitaker JK, West J, Holmes GK, et al. Patient perceptions of the burden of coeliac disease and its treatment in the UK. Aliment Pharmacol Ther 2009; 29: 1131–1136.
Comments ()