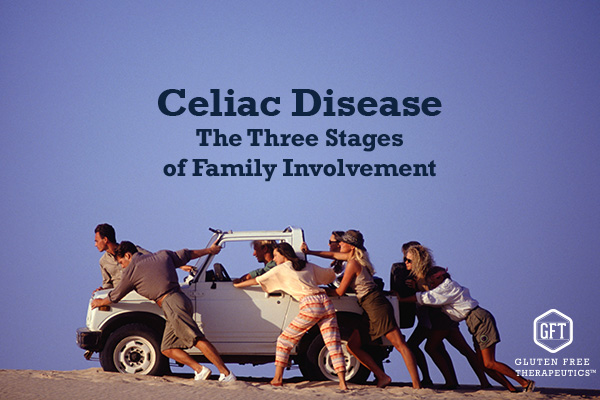 When Celiac Disease Treatment Includes Family Involvement
Popular wisdom says that a problem shared is a problem halved. This not only applies to personal and professional issues, but it's also relevant to health problems. If a member of your close family has been diagnosed with celiac disease, counting on your support is paramount. Studies show that there is a higher rate of success when celiac disease treatment includes family involvement.   However, adapting to the new way of life may be a bumpy journey, and it may take some time for all family members to accept and learn to live with the diagnosis. If a member of your family is has been diagnosed with Celiac disease, your support is paramount to their successful recovery. Let's explore the three stages were  involvement is needed.
Stage one: Feeling confused
After a diagnosis of celiac disease for a close family member, you may experience a sense of confusion and powerlessness, as you witness how vulnerable they can become due to a condition you don't really understand. On the other hand, celiac disease patients also report negative emotions such as isolation, fear of contamination or being a bother at family events. It is not uncommon for the newly diagnosed to experience feelings of anxiety and depression.
The intrusion of this unwelcome disease can result in considerable disruption to family life, sometimes permanently if the family does not receive appropriate training. As a family, you may run the risk that what was once an enjoyable experience having a meal with family and friends can become an extremely complicated situation.
Stage two: Accepting (or not) the diagnosis
During this initial learning period, you can expect to have contradictory feelings: resentment if you prioritise your relative, followed by guilt if you prioritise yourself. You may experience personal quilt in enjoying foods that are forbidden to your loved one. However, undoubtedly, a patient with celiac disease has a greater chance of learning to live with the condition if they have their family support, so it's important for close relatives to remain a source of encouragement.
The key to understand how difficult it is for a family member – a partner, a sibling or a child – is to find the correct information about the condition. Recent studies have shown that if close relatives receive the same information as the person with the disease, it's easier for the disease to become "part of the family". This avoids doubts about whether the condition is really that serious or is the patient in that much pain. An understanding of the consequences of gluten exposure is important. Correct information may also reduce your emotional burden, particularly if you're concerned about making a mistake in the daily running of the house or preparing meals. Make learning about the basics of cross contamination and how to make your family kitchen a safe place to prepare meals is a great way to protect your loved one.
In contrast, without proper support, it's easy for relatives to either ignore the diagnosis or go down a negative spiral, excessively worrying about possible complications. For example, some parents believe their child's quality of life is poorer than what the actual child feels, particularly when it comes to leisure and social activities.
This is where clear guidance and support from your physician or healthcare worker is vital, not only about the "ins and outs" of a gluten-free diet, but also about how the family can cope with the condition on a long-term basis.
Stage three: Shared responsibility
Despite the initial difficulties, family involvement is virtually inevitable. If you're not there yet, rest assured that most families will eventually manage to restore some sense of a "normal life", with shared responsibilities to ensure dietary adherence. Armed with accurate information and a positive approach living with celiac disease does not need to be a burden. Most people in time find that family balance and thrive on their road to recovery.
Sadly, there isn't much research done from the point of view of family members living with a celiac disease patient. A better understanding of their daily struggles would be extremely useful for healthcare personnel to provide the best care possible not only for the patient with celiac disease, but for the entire family as a unit.
---
This original article is made possible by Gluten Free Therapeutics. Our mission is to educate, inform, and provide the most effective nutritional products possible to allow those with celiac disease and serious gluten intolerances to heal their bodies. CeliVites complete line of superior gluten free supplements includes multivitamin/multimineral supplements, iron supplements, and calcium supplements for people living with celiac disease. All CeliVites products are designed to help you heal, restore and rebuild your body, because going gluten free isn't enough! 
---
REFERENCES
Anson O, Weizman Z, Zeevi N. Celiac disease: parental knowledge and attitudes of dietary compliance. Pediatrics. 1990;85:98-103.
Bacigalupe G, Plocha A. Celiac is a social disease: family challenges and strategies. Fam Syst Health. 2015;33:46-54.
de Lorenzo CM1, Xikota JC, Wayhs MC et al. Evaluation of the quality of life of children with celiac disease and their parents: a case-control study. Qual Life Res. 2012;21:77-85.
Gregory S. Living with chronic illness in the family setting. Sociol Health Illn. 2005;27:372-92.
Sverker A, Östlund G, Hallert C and Hensing G. Sharing life with a gluten-intolerant person – the perspective of close relatives. Journal of Human Nutrition and Dietetics 2007; 5:412-122
Comments ()