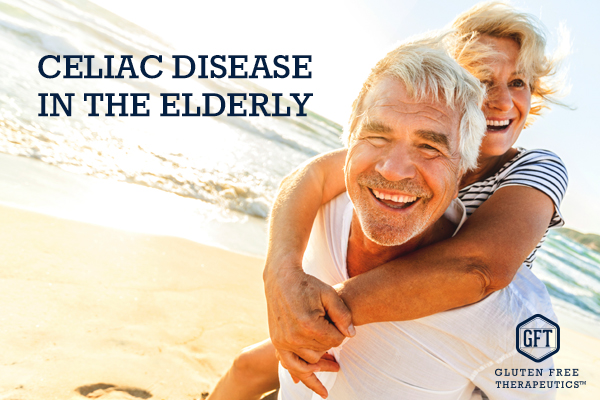 Can you be diagnosed with celiac disease if you're over 60?
The answer is yes. It is more common that you would think.
You may be surprised to hear a celiac disease diagnosis if you're over 60, but the reality is this condition can strike at any time. In fact, it's becoming increasingly clear that what was once considered a disease to be diagnosed during childhood, can develop at any stage during life, including the twilight years. Epidemiologic studies have suggested that a substantial portion of patients are diagnosed after the age of 50. Indeed, in one study, the median age at the diagnosis was just under the age of 50 with one-third of new patients diagnosed over the age of 65. Showing that you can  be diagnosed with celiac disease if you're over 60.  The main concern is that despite growing awareness and knowledge about the condition, most physicians struggle to diagnose and manage celiac disease in elderly patients.
Most likely you had to seek medical advice on symptoms not immediately obvious as an intestinal condition. In fact, older patients usually present unusual symptoms, often leading to significant delays in diagnosis, which in turn increases the risk of morbidity and mortality. For some elderly patients, it can take up to 17 years and a multitude of incorrect diagnosis until physicians finally agree on celiac disease.
Why is it so difficult to diagnose?
For any patient, celiac disease can be an extremely difficult disease to diagnose, with a wide array of symptoms, varying from diarrhea to osteoporosis. However, for yet unknown reasons, the difficulty jumps to another level when it comes to older patients. The main issue is that typical intestinal symptoms are less common in these patients, which instead tend to present nutritional deficiencies or other secondary symptoms. For example, the vast majority of elderly patients only have anemia or low bone density as their main symptom at the time of diagnosis. In fact one study found that anemia is present in 60-80% of elderly patients with celiac disease and has been mainly attributed to the deficiency of micronutrients, particularly iron. Deficiencies of other nutrients such as folate and vitamin B12 were also common. Other autoimmune diseases are also frequently associated with celiac disease and may provide clues for suspicion of celiac disease in an elderly patient. Autoimmune thyroid disorders are the most common associated autoimmune diseases in elderly celiac patients, with majority of patients presenting with hypothyroidism. Those that do present more typical symptoms tend to complain about mild forms of flatulence and bloating, and don't really make diagnosis any easier. The consequent delay can have serious repercussions, as the risk of developing other immune diseases or intestinal lymphoma is higher in elderly patients.
How to manage celiac disease?
Like for all other celiac disease patients, the treatment for your condition relies on a strict gluten-free diet. Most patients seem happy to try, but still the management of this condition presents its own specific challenges. Above all, habits of a life time are hard to break and dietary preferences are no exception. Then, there's the issue of finding suitable gluten-free products – for someone with poor vision, reading the ingredient list can be a nightmare. Finally, patients may be able to achieve a gluten-free diet, but what about all the medication needed? Gluten is commonly used as a filler in many pills and capsules. So due diligence is needed with prescriptions.
This is where family support needs to come in! If possible, particularly in the case of patients with other health issues or advanced age, relatives should be actively involved in establishing the best care and minimise complications, such as recurrent bone fractures. In this case, a close follow-up is essential to detect any early signs of malabsorption as it takes longer for the intestine to heal in older patients.
In other words, a comprehensive and multidisciplinary approach tailored to the needs of each patient is the best way to reduce the risk of morbidity and mortality in these patients. But the good news is that with consistent and diligent elimination of gluten from the diet healing will begin and patients report feeling better than they have in years.
Comments ()