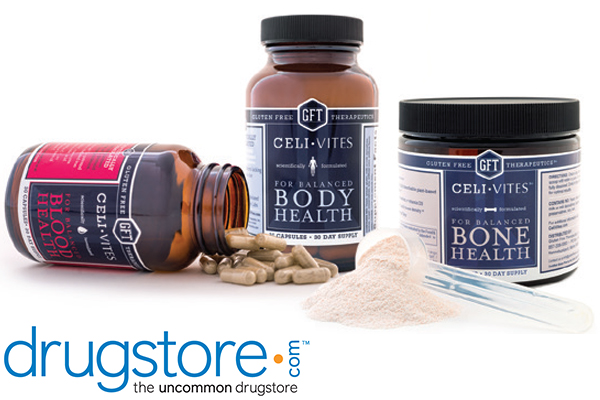 Gluten Free Therapeutics available at drugstore.com
Gluten Free Therapeutics available at drugstore.com
Everyday life with celiac disease or gluten sensitivity can be quite challenging.
It's more than just checking and double-checking what you are eating – it extends to what you put on your body, worrying about cross-contamination and thinking 10 steps ahead to any place gluten could be hiding.
The team at Gluten Free Therapeutics knows the struggle well and want to do everything possible to make life easier. With this goal in mind, and in addition to making gluten-free supplements with the highest-quality, more effective ingredients possible, Gluten Free Therapeutics is making it even easier for you to receive the vital nutrients you need.
We are THRILLED to announce that we are now available at drugstore.com 
Highly-respected drugstore.com, inc. is a leading online retailer of health, beauty, clinical skincare, and vision products. The company was founded in 1998 with a mission to serve consumers by focusing on selection, convenience, information and personal service. The site has grown to become a leader in online drugstore retail industry.
"Drugstore's reputation for outstanding customer service and concern for their customers is perfectly aligned with the Gluten Free Therapeutics standard of excellence," our company president Leigh Reynolds said.
The Gluten Free Therapeutics team is so happy to be apart of such a wonderful site and the feeling must be mutual, because for a limited time drugstore.com is offering a new item discount on CeliVites.
Gluten Free Therapeutics and CeliVites are growing.
In addition to our online store and Amazon you can find us at Evitamins.com, Vitabeauti.com, Pureformulas.com. You will be able to find us soon at LuckyVitamins.com soon.
And for our dear customers who enjoy getting offline to do their shopping, we have some big news for you: CeliVites for Balanced Bone, Blood and Body Health will soon be available at Whole Foods New England. We are so excited that our home region will soon be displaying our products. We will be the first to let you know when you can find CeliVites in the aisles.
So, if you've been waiting for a sign (or a good deal) here is the opportunity you've been looking for to try CeliVites. Gluten Free Therapeutics is a featured brand on drugstore.com  – visit today and see what we mean when we say, "Heal. Restore. Rebuild."
---
This original article is made possible by Gluten Free Therapeutics. Our mission is to educate, inform, and provide the most effective nutritional products possible to allow those with celiac disease and serious gluten intolerances to heal their bodies. CeliVites complete line of superior gluten free supplements includes multivitamin/multimineral supplements, iron supplements, and calcium supplements for people living with celiac disease. All CeliVites products are designed to help you heal, restore and rebuild your body, because going gluten free isn't enough! 
---
Comments ()