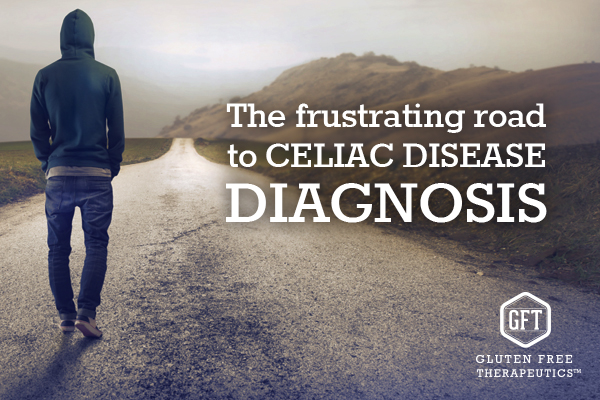 The Frustrating Road to CD Diagnosis
By Alex Reis, PhD, GFT science writer
For some patients, the road to diagnosis of celiac disease can be an extremely long and frustrating one. More often than not, the initial symptoms are vague or varied, which complicates the identification of celiac disease cases, especially for physicians not well informed about the condition. As a result, even for patients who aggressively seek medical advice, diagnosis can take more than 10 years from the moment symptoms start.
In the meantime, living with an untreated condition is not only a cause of distressing gastrointestinal and other symptoms, but it's also associated with considerable negative health consequences in the long term, including higher mortality rates. Awareness of how difficult it is to live with undiagnosed celiac disease would go a long way in helping patients seeking answers.
Researchers are well aware of how a diagnosis of celiac disease may affect the patient's quality of life, but how undiagnosed individuals deal with the situation is not something that has attracted much attention. Going against the trend, one of the few groups that looked into this issue comes from the UK. In a recent study, they revealed how the quality of life of undiagnosed individuals with celiac disease is perceived to be just as bad as some severe health events, such as having a stroke. Luckily, this perception seems to improve significantly after diagnosis, reaching levels on par with the general population.
Constant trips to the doctor
Before diagnosis, constant and often demoralising trips to multiple doctors are commonplace, typically accompanied by days off work or school with no satisfactory explanation to offer. Misinterpreting non-specific symptoms as infections, some doctors opt to prescribe large amounts of unnecessary antibiotics. These drugs may genuinely be needed sometimes – as undiagnosed patients are at a higher risk of infections – but in the long-term they only serve to worsen the situation and cause even further gastrointestinal problems. What doctors need is the expertise to recognise potentially undiagnosed patients and the ability to fast-track their assessment.
What will they find?
Not having a definite diagnosis can be frustrating, but finally going for an assessment can be equally stressful. At this stage, its important doctors inform the patient about any planned tests, including the need for an endoscopy, as well as genetic or serologic assays. This attitude will go a long way to increase the patient's trust and establish a potential long-term relationship. If celiac disease is determined informed follow-up care is needed by a celiac aware team of health care providers.
For an invasive test such as an endoscopy, pre-procedure worries are very frequent. Studies have suggested that about half the patients undergoing the test are extremely concerned beforehand, including the fear of discovering cancer or experiencing pain. This is when doctors need to reassure patients that endoscopy is a well-tolerated and pain-free procedure and it could confirm or dismiss a celiac disease diagnosis.
Ideally, every patient suffering from celiac disease should be diagnosed shortly after symptoms start. Reducing the gap between symptoms and diagnosis is the best way to reduce the burden of the disease, and the solution could involve a more proactive attitude towards detecting new cases. For some, the answer includes screening at-risk groups to improve diagnostic rates and increased awareness of the condition among healthcare workers.
---
This original article is made possible by Gluten Free Therapeutics. Our mission is to educate, inform, and provide the most effective nutritional products possible to allow those with celiac disease and serious gluten intolerances to heal their bodies. CeliVites complete line of superior gluten free supplements includes multivitamin/multimineral supplements, iron supplements, and calcium supplements for people living with celiac disease. All CeliVites products are designed to help you heal, restore and rebuild your body, because going gluten free isn't enough! 
---
REFERENCES
Rubio-Tapia A, Kyle RA, Kaplan EL et al. Increased prevalence and mortality in undiagnosed celiac disease.Gastroenterology. 2009;137:88–93
Gray AM, Papanicolas IN. Impact of symptoms on quality of life before and after diagnosis of coeliac disease: results from a UK population survey. BMC Health Serv Res. 2010;10:105.
Green PHR, Stavropoulos SN, Panagi SG et al. Characteristics of adult celiac disease in the USA: Results of a national survey. Am J Gastroenterol. 2001;96:126–131
Casellas F, Rodrigo L, Lopez Vivancos J et al. Factors that impact health-related quality of life in adults with celiac disease to multicenter study. World J Gastroenterol. 2008;14:46–52.
Casellas F, Rodrigo L, Lucendo AJ, Fernández-Bañares F et al. Benefit on health-related quality of life of adherence to gluten-free diet in adult patients with celiac disease. Rev Esp Enferm Dig. 2015 Apr;107(4):196-201.
Greco L, Timpone L, Abkari A, et al. Burden of celiac disease in the Mediterranean area. World J Gastroenterol 2011; 17:4971–4978
Green PH, Neugut AI, Naiyer AJ, et al. Economic benefits of increased diagnosis of celiac disease in a national managed care population in the United States. J Insur Med 2008; 40:218–228.
Norström F, Sandström O, Lindholm L, et al. A gluten-free diet effectively reduces symptoms and health care consumption in a Swedish celiac disease population. BMC Gastroenterol 2012; 12:125.
Thomas HJ, Wotton CJ, Yeates D, et al. Pneumococcal infection in patients with coeliac disease.Eur J Gastroenterol Hepatol 2008; 20:624–628.
Ludvigsson JF, Wahlström J, Grunewald J, et al. Coeliac disease and risk of tuberculosis: a population based cohort study. Thorax 2007; 62:23–28.
Drossman DA, Brandt LJ, Sears C, et al. A preliminary study of patients' concerns related to GI endoscopy. Am J Gastroenterol 1996;  1: 287–291.
Quine MA, Bell GD, McCloy RF, et al. Prospective audit of upper gastrointestinal endoscopy in two regions of England: Safety, staffing, and sedation methods. Gut 1995; 36: 462–467.
Comments ()