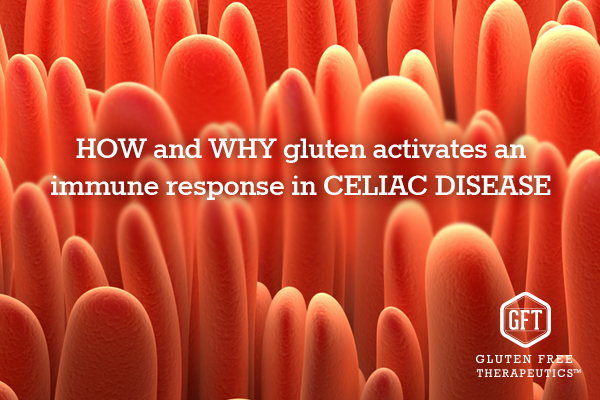 How Gluten Activates an Immune Response
How gluten "sneaks" out of the digestive tract and activates an immune response
Wheat is one of the most consumed cereals around the world. When flour obtained from this cereal is mixed with water, it forms a highly elastic dough and gives bread its characteristic chewy texture. For most people, this is part of a balanced and healthy diet, but for celiac disease patients these grains contain their worst enemy: gluten.
How does gluten trigger an immune response?
From a chemical point of view, gluten is the general name for two important structural proteins present in wheat seeds: gliadin and glutenin. Glutenin (a type of glutelin) is the major protein within wheat flour, making up 47% of the total protein content. Of these, "trouble-makers" gliadin is incredibly difficult to digest and tends to linger in the digestive system. In the end, instead of being broken down like any other protein, gliadin suffers some alterations at the hands of an enzyme called transglutaminase 2, making it even more indigestible. For most people, this does not represent a problem and eventually the ddigestive system is able to deal with the stubborn protein. In celiac disease patients, however, it's a different story.
These patients carry one or two specific versions of a gene called HLA: These versions – known as HLA-DQ2 and HLA-DQ8. – define the type of membrane receptors present in the immune cells responsible for the body's first line of defence. This system is normally very good at distinguishing between what's safe and what's potentially dangerous, but HLA-DQ2 or HLA-DQ8 receptors are somehow tricked into "believing" gliadin is a threat. The problem is that, after transglutaminase's modifications, gliadin has a particular preference for these two receptors and can bind much more tightly than with any other HLA versions.
As a consequence, these gliadin/receptor complexes are more inclined to activate an inflammatory response, inevitably disrupting the structure and function of the small bowel and weakening the body's ability to absorb nutrients from food.
Increased Intestinal Permeability
However, in order for gliadin to find its favourite immune cells, first it has to cross the intestinal barrier. It turns out this is easier than it sounds as gliadin instigates the release of another piece in the puzzle, in the form of a protein called zonulin. In turn, zonulin has a special knack for re-arranging proteins protecting the connections between cells in the intestinal wall, seriously compromising its integrity and opening up a way for gliadin to escape the control of the digestive system. This way, constant exposure to gluten can create a downward spiral of a leaky gut followed by inflammation, which can lead to further damage to the intestinal wall and further inflammation experienced by celiac patients.
It's now well accepted that in celiac disease patients, gliadin increases intestinal permeability and activates the immune system. Other cereal grains containing related prolamins – hordeins in rye and secalins in barley – have not been so extensively studied, and would be interesting to see their impact on zonulin release and subsequent intestinal permeability. Who knows if these proteins could provide researchers with a few more potential therapeutic targets to develop new treatments?
---
This original article is made possible by Gluten Free Therapeutics. Our mission is to educate, inform, and provide the most effective nutritional products possible to allow those with celiac disease and serious gluten intolerances to heal their bodies. CeliVites complete line of superior gluten free supplements includes multivitamin/multimineral supplements, iron supplements, and calcium supplements for people living with celiac disease. All CeliVites products are designed to help you heal, restore and rebuild your body, because going gluten free isn't enough! 
---
REFERENCES
Biesiekierski JR, Newnham ED, Irving PM, Barrett JS, Haines M, Doecke JD, Shepherd SJ, Muir JG, Gibson PR Gluten causes gastrointestinal symptoms in subjects without celiac disease: A double-blind randomized placebo-controlled trial. Am. J. Gastroenterol. 2011;106:508–514.
Catassi C, Pierani P, Natalini G, Gabrielli O, Coppa GV, Giorgi PL Clinical application of a simple HPLC method for the sugar intestinal permeability test. J. Pediatr. Gastroenterol. Nutr.1991;12:209–212
de Punder K and Pruimboom L. The Dietary Intake of Wheat and other Cereal Grains and Their Role in Inflammation Nutrients. 2013 Mar; 5(3): 771–787.
Fasano A. Leaky gut and autoimmune diseases. Clin. Rev. Allergy Immunol. 2012;42:71–78
Fasano A. Zonulin, regulation of tight junctions, and autoimmune diseases. Ann. N. Y. Acad. Sci.2012;1258:25–33
Lammers KM, Lu R, Brownley J, Lu B, Gerard C, Thomas K, Rallabhandi P, Shea-Donohue T, Tamiz A, Alkan S, et al. Gliadin induces an increase in intestinal permeability and zonulin release by binding to the chemokine receptor CXCR3. Gastroenterology. 2008;135:194–204.
Lerner A and Matthias T. Changes in intestinal tight junction permeability associated with industrial food additives explain the rising incidence of autoimmune disease. Autoimmunity Reviews. 2015; 14: 479–489
Sander GR, Cummins AG, Henshall T, Powell BC. Rapid disruption of intestinal barrier function by gliadin involves altered expression of apical junctional proteins. FEBS Lett. 2005;579:4851–4855
Shewry PR. Wheat. J. Exp. Bot. 2009;60:1537–1553
Tatham AS, Shewry PR. Allergens to wheat and related cereals. Clin. Exp. Allergy. 2008;38:1712–1726
Troncone R, Jabri B. Coeliac disease and gluten sensitivity. J. Intern. Med. 2011;269:582–590
Turner JR. Intestinal mucosal barrier function in health and disease. Nat. Rev. Immunol. 2009;9:799–809
Comments ()