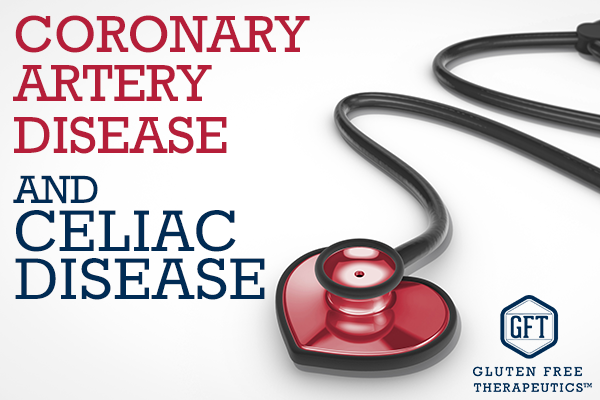 Celiac Patients Twice as Likely to Have Coronary Artery Disease
Mounting evidence about the role systemic inflammation may play in heart health and the increased risk for celiac patients
Coronary artery disease (CDC) is the number one killer of adults in the U.S., claiming more than 380,000 lives every year. Like most types of heart disease, coronary artery disease has been linked with an increase inflammation that occurs as a result of undiagnosed infections, aging-related changes or autoimmune disorders like celiac disease that causes chronic low-grade inflammation in the small intestine. In fact, a recent study shows that people with celiac disease are twice as likely to have coronary artery disease compared to the general population. The relationship between CDC and CD is becoming more clear and is important information for celiac patients to know.
Conducted by researchers at the Cleveland Clinic, the study's researchers evaluated more than 22 million health records to compare levels of CAD among men and women with and without celiac disease. In addition to the overall twofold increase in CAD among celiac patients, they also found people with celiac disease had a significantly higher risk of stroke. Even among younger celiac patients, the increased risk for coronary artery disease remained at nearly two times the levels of healthy men and women.
Although earlier studies have demonstrated potential links between celiac disease and heart failure and arrhythmia, co-investigator R.D. Gajulapalli, M.D., said the researchers were "surprised by the strength of the association" between celiac disease and coronary artery disease.
"This is an important study because it highlights a specific patient population who might be at higher risk for coronary artery disease, even in the absence of traditional cardiovascular risk factors," Dr. Gajulapalli said. "Whether patients with celiac disease will need more intense risk factor modification like in diabetic patients with coronary artery disease will need to be studied."
The National Foundation for Celiac Awareness says about 1 in 133 Americans suffers from celiac disease, but another study says as many as 1.4 million more people have the disease but remain undiagnosed.
Men and women with coronary artery disease may benefit from taking dietary supplements shown to support a healthy cardiovascular system; however, because celiac disease can cause problems with nutrient absorption in the small bowel, patients who suffer from both CAD and celiac disease may have trouble getting the nutrients that could help them enjoy better health.
Gluten Free Therapeutics CeliVites supplements were developed specifically for people with celiac disease. CeliVites contain no gluten, and they're formulated for maximum absorption and superior bioavailability for optimal health.
To learn more about Gluten Free Therapeutics or to see the complete line of CeliVites products, visit the GFT website, follow GFT on Twitter or visit the company at its Facebook page.
---
This original article is made possible by Gluten Free Therapeutics. Our mission is to educate, inform, and provide the most effective nutritional products possible to allow those with celiac disease and serious gluten intolerances to heal their bodies. CeliVites complete line of superior gluten free supplements includes multivitamin/multimineral supplements, iron supplements, and calcium supplements for people living with celiac disease. All CeliVites products are designed to help you heal, restore and rebuild your body, because going gluten free isn't enough! 
---
Comments ()