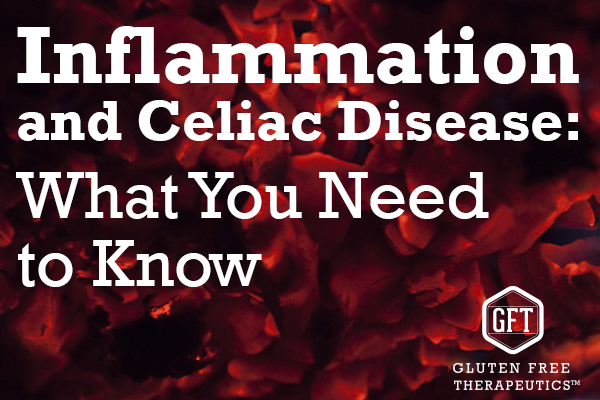 What is chronic inflammation and how does celiac disease cause it to occur?
Celiac disease has been linked with several other diseases and conditions, most of which are related in some way to the inflammation caused by the disease. It's simple enough to say celiac disease causes inflammation. Celiac patients often experience chronic inflammation symptoms that can accompany celiac disease. But just what is inflammation and how does celiac disease cause it to occur?
Ironically, inflammation is actually part of the body's natural healing process. In a healthy person, inflammation is a sign that the body has sent its first line of defense – disease-fighting cells – to the site to help battle harmful pathogens and ward off infection. But in a person with an autoimmune disease like celiac disease, those cells turn against healthy cells, damaging tissues and organs and impairing the body's normal functions.
Celiac disease is an autoimmune disorder, meaning that the body attacks itself. Hair-like structures (or finger-like structures) called villi line the small intestine, allowing nutrients to be absorbed into the bloodstream. When gluten is eaten, villi become inflamed and flattened. In people with damaged villi, vitamins, minerals, carbohydrate, protein and fat are poorly absorbed, causing nutritional deficiencies and health of the body is affected.
White blood cells, or leukocytes, are the disease-fighting cells with which most people are familiar. There are several types of white blood cells, including B cells, specialized cells whose sole task is to travel through the bloodstream looking for invaders. When they find a foreign body like a virus or bacterium, they attach themselves to the outside of the object and begin producing antibodies designed to destroy the invaders. Another type of white blood cell, called "killer cells", seeks out invaders and kills them immediately. In healthy people, these and the other types of white blood cells can differentiate between "normal" cells in your body and harmful invaders, and they play critical roles in warding off disease; but in people with CD, these cells can misidentify harmless substances like food particles for dangerous pathogens, attacking the healthy lining of the small intestine instead.
No one is sure what causes this "mistaken identity" to occur, but it's a feature not only of celiac disease, but of all autoimmune diseases. And bowel inflammation isn't the only kind of inflammation that can occur as a result of celiac disease. Several studies have shown a link between CD and joint inflammation, and some research has shown that people with CD are at a much higher risk for developing joint pain. Interestingly, research studies have also shown that people who don't have CD may still have joint inflammation related to gluten consumption, implying that gluten can cause different types of inflammation to occur.
Inflammation in CD causes other problems. Because it affects the small intestine which plays a prominent role in digestion, CD can cause nutritional deficiencies to develop, notably deficiencies in vitamins A, D, E and K and iron, calcium and folic acid. In turn, these deficiencies can result in a decline in overall health and an exacerbation of CD symptoms including joint and bowel inflammation.
Dietary supplements can help make up for these nutritional gaps, but one of the problems with supplements is that many so-called gluten-free products are processed in facilities that manufacture or process products containing gluten, resulting in cross-contamination from microscopic gluten particles. Even these minuscule amounts are enough to trigger an immune response in people with CD or gluten sensitivity. That means that the products you're taking to help you stay healthy could actually wind up making your condition worse.
CeliVites by Gluten Free Therapeutics is targeted to replace the nutrients lost due to poor absorption. They are completely gluten free to offer people with CD the nutrients they need in the most absorbable form for both good health and peace of mind. In fact, GFT was founded by the mother of an adult child with celiac disease, so every product is developed from real firsthand experience and "know-how." To see the complete lineup of CeliVites, visit the Gluten Free Therapeutics website.
This information is provided by GFT to inform and educate. It is not to be used as a substitute for medical advice. We recommend that this and any other medical questions be discussed with a medical health professional.
---
This original article is made possible by Gluten Free Therapeutics. Our mission is to educate, inform, and provide the most effective nutritional products possible to allow those with celiac disease and serious gluten intolerances to heal their bodies. CeliVites complete line of superior gluten free supplements includes multivitamin/multimineral supplements, iron supplements, and calcium supplements for people living with celiac disease. All CeliVites products are designed to help you heal, restore and rebuild your body, because going gluten free isn't enough! 
---
Comments ()