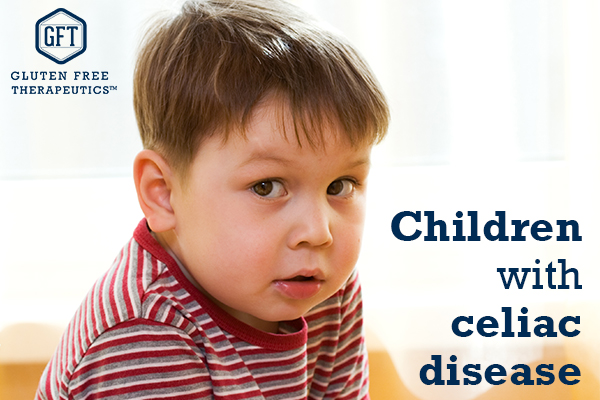 Pediatric Celiac Disease is Difficult to Diagnose
Children with celiac disease often have elusive symptoms
Celiac disease affects children as well as adults, and recent studies suggest the disease may be much more prevalent in children than previously thought. That's because celiac disease tends to present a little differently in children, making a diagnosis more problematic in many cases. In addition to the gastrointestinal symptoms that arise from the gluten reaction, other organs can also be involved. When not detected early in children, the malnutrition that occurs with celiac disease can create lifelong effects including weak bones, stunted growth and even learning disabilities. What's more, in some children the disease may be "silent," causing no traditional gastrointestinal symptoms to cause parents and doctors to be suspicious that the disease may be present.
A study from researchers at the University of Maryland defines "classic" CD as disease that typically begins between six and 24 months of age, resulting in chronic diarrhea, abdominal bloating, poor appetite and irritability or moodiness, followed by poor growth and, eventually, weight loss. By contrast, the "non-classical" form of pediatric CD typically manifests between five and seven years of age, causing vomiting, recurrent belly pain, constipation, nausea and bloating, as well as symptoms like shorter stature, defects in the dental enamel, dermatitis herpetiformis, iron deficiencies and even abnormal liver function.
The same study notes delays in diagnosis may be due in part to the fact that many insurance companies do not cover the costs of intestinal biopsies to diagnose pediatric celiac disease and that testing methods among pediatric patients may be inconsistent.
The Journal of Pediatric Gastroenterology and Nutrition has endeavored to make diagnosis a little easier by publishing guidelines specifically aimed at the pediatric population. Here's what they recommend:
CD should be an early consideration in differential diagnosis for children who demonstrate symptoms of failure to thrive (FTT), persistent diarrhea, recurrent belly pain, constipation and vomiting.
Testing for CD should be conducted in children with non-GI symptoms like dental enamel problems, bone density issues, short stature, delayed puberty, dermatitis herpetiformis, type 1 diabetes, Down syndrome, autoimmune thyroiditis, Williams syndrome, Turner syndrome and selective IgA deficiency, as well as those with first-degree relatives with CD.
Testing for patients in the above group should begin at three years of age and repeated at regular intervals if initial tests are negative since the disease may develop later on.
A 2010 Danish study found a simple questionnaire could help identify kids most at risk for having celiac disease. These are the questions they suggest parents consider if they suspect their child may have CD:
Is your child growing and gaining weight normally?
Has your child ever had diarrhea for a period exceeding two weeks?
Does your child often have firm, hard bowel movements?
Has your child had belly pain more than twice in the past three months?
If the answer to any of these questions is yes, ask your child's pediatrician about conducting a blood test to diagnose CD.
As your child's advocate, you can help ensure your child gets the tests he or she needs to be properly diagnosed by talking with your doctor about emerging studies that suggest more children have undiagnosed celiac disease than previously suspected.
---
This original article is made possible by Gluten Free Therapeutics. Our mission is to educate, inform, and provide the most effective nutritional products possible to allow those with celiac disease and serious gluten intolerances to heal their bodies. CeliVites complete line of superior gluten free supplements includes multivitamin/multimineral supplements, iron supplements, and calcium supplements for people living with celiac disease. All CeliVites products are designed to help you heal, restore and rebuild your body, because going gluten free isn't enough! 
---
Comments ()