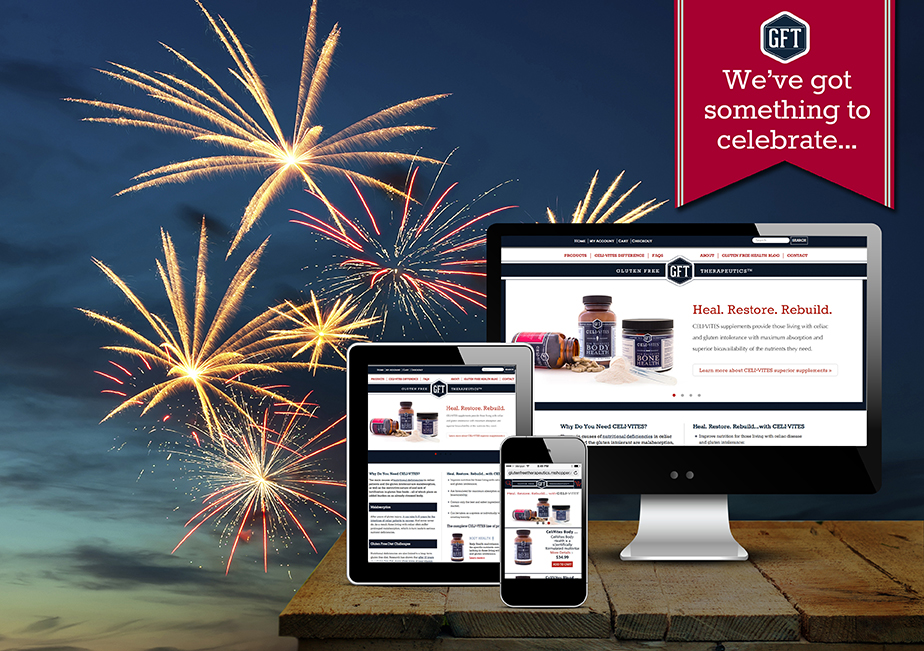 You talked, we listened: Gluten Free Therapeutics is better than ever
You talked, we listened: Gluten Free Therapeutics is better than ever
We are celebrating at GFT and want to share with you some exciting news.
What differentiates us from the competition is our highest quality available ingredients and thoughtful formulations in our Celi•Vites for Balanced Bone, Blood and Body Health. We are constantly striving to be the best in every aspect. And with that goal in mind we have refined our website to better serve you, our customer.
We are thrilled to announce that our site is available to view on your smartphone or tablet. We listened to your feedback and it's never been easier or more convenient to securely and safely shop for Celi•Vites or learn more about our company and product.
We have also completely refined our website, making it accessible to anyone looking for more information. We've streamlined the layout and content on the site to make it both easy to understand, as well as offering incredibly in-depth scientific studies and high-level information.
Our site is focused on the science -both the science behind our products and formulations, as well as current, relevant studies and the latest information and research on celiac disease, gluten sensitivity and overall health.
Finally, now available on GlutenFreeTherapeutics.com is our Celi•Vites Subscription Program. As a subscriber, your 30 day supply of Celi•Vites will be replenished and your credit card debited automatically each month. A free program, you receive 10% off the cost of your Celi•Vites and only have to worry about living your life, not about reordering your supplements monthly. Learn more here.
That's why we say "Heal. Restore. Rebuild…with Celi•Vites" – we know the struggle personally with celiac disease, nutrient deficiencies, malabsorption, gluten free diet challenges and health consequences. We're here to help you by offering the best gluten-free supplements available and the latest scientific information to empower and fuel your gluten-free life. Visit our site today to learn more about Gluten Free Therapeutics and why our products are superior.
---
This original article is made possible by Gluten Free Therapeutics. Our mission is to educate, inform, and provide the most effective nutritional products possible to allow those with celiac disease and serious gluten intolerances to heal their bodies. CeliVites complete line of superior gluten free supplements includes multivitamin/multimineral supplements, iron supplements, and calcium supplements for people living with celiac disease. All CeliVites products are designed to help you heal, restore and rebuild your body, because going gluten free isn't enough! 
---
Comments ()