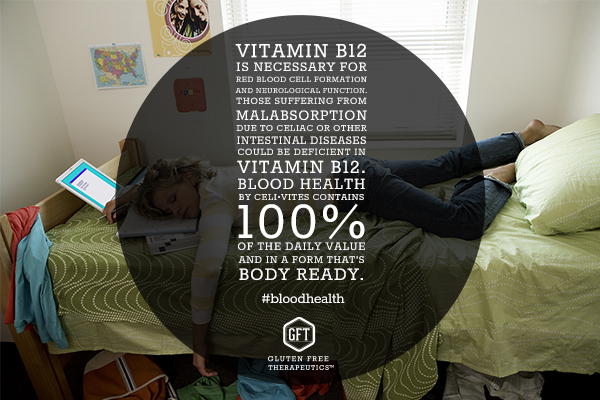 B Vitamins make the difference
B Vitamins make the difference
As June comes to a close, we hope we brought awareness to Blood Health and why it's so important. It really is all about healthy red blood cell development after all.

Our Celi•Vites for Balanced Blood Health has ingredients selected with purpose. Only the highest quality forms will do.

Vitamins B2 and B12 are the last piece of our puzzle.

Quite simply, Vitamin B12 is necessary for red blood cell formation and neurological function. Often those suffering from malabsorption due to celiac or other intestinal diseases may be deficient in Vitamin B12. Celi•Vites for Balanced Blood Health provides 100% of the daily value of B12 as the active, coenzyme form, methylcobalamin. This means it's body ready and can be absorbed easily.

Vitamin B2 is no slouch either. It is required for the metabolism of homocysteine, an amino acid that promotes good health. High levels of homocysteine have been linked to cardiovascular disease.

Our form of B2 is provided as riboflavin 5'-phosphate (or Riboflavin) the active coenzyme form. In a clinical study, among those with the 677C-T genotype, the study group with the lowest third of riboflavin level had higher levels of plasma homocysteine, a risk factor for development of coronary artery disease. The authors conclude that in addition to folate (discussed heavily in our last blog) riboflavin requirements should be considered by government sponsored food fortification programs to prevent high levels of homocysteine, that lead to cardiovascular risk, neuropsychiatric illness and bone health.

Educate yourself or someone you love about Blood Health as well as Celi•Vites for Balanced Blood Health. A closer look will reveal why we are so excited about them and are eager to heal, restore and rebuild those with damage from celiac disease or who want the highest-quality supplements available.
---
This original article is made possible by Gluten Free Therapeutics. Our mission is to educate, inform, and provide the most effective nutritional products possible to allow those with celiac disease and serious gluten intolerances to heal their bodies. CeliVites complete line of superior gluten free supplements includes multivitamin/multimineral supplements, iron supplements, and calcium supplements for people living with celiac disease. All CeliVites products are designed to help you heal, restore and rebuild your body, because going gluten free isn't enough! 
---
Comments ()