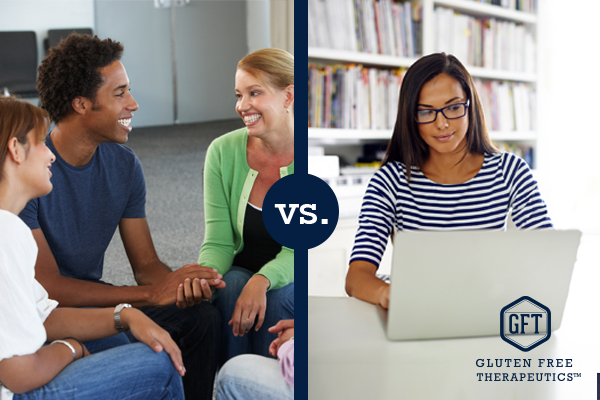 Celiac Patient Support Groups: Online vs. Real Life
Is it time to turn to the Internet for support?
These days, it's possible to find anything online. The map to a new restaurant. The latest celebrity gossip. Up-to-date news from across the world. But can the internet offer more than just information? Can celiac disease patients find the support they need from the web? Sadly for all tech-enthusiasts, it seems the answer is no. It turns out old fashioned face-to-face interaction produces much better results. According to a new study from Columbia University, celiac disease patients reported higher quality of life with "real life" support groups than those that just received online help.
Why is face-to-face better than online?
It should not come as a surprise that, after the initial relief of diagnosis – especially for those waiting several years to be diagnosed – many patients find that the strain of maintaining a gluten-free diet takes a toll on their happiness after a few years. Social interactions and meals out with friends, for example, are always listed as difficult situations by these patients.
For some, the solution includes some form of support groups. With technology reaching every corner of our lives, it's easy to think that the best way to touch celiac disease patients may be through the internet. After all, each person can access the information at their own leisure and maintain anonymity if they wish, combined with all the advantages of a traditional support group, including shared experiences and a shared goal.
However, results showed that an exclusive reliance on online support groups, particularly from social media, was associated with a lower sense of well-being and increased loneliness. Worryingly, the more often and the longer the patients used social media, the higher the levels of worry and anxiety. The authors believe internet support may be able to provide information, but not the kind of advice these patients really need. In addition, although breaking any geographical barriers present, online support lacks the personal touch and immediate responses that can help patients to improve their health on a long term basis. Online support is better than no support, but face-to-face beats any other option!
It's not all bad for the internet….
Despite the results, the authors see some potential in online support groups. They suggest future research to unveil why face-to-face works so well, which could enable the development of web-based programs using these positive components. Like fusion cuisine brings together elements of different culinary traditions, the future may be a mix of the best parts of both systems, in a way that adapts to each patient's needs. Besides not all patients have access to real life support groups.
For the time being, however, it may be up to you to search for a support system that suits your needs, which may well be a combination of face-to-face and online. If you're one of the many that has yet to find this network – over 50% of celiac disease patients don't rely on any form of support – the authors highlight the long term health benefits and suggest a referral to a celiac support group and continued monitoring and care. Why not ask your doctor about it?
References
Lee A, Wolf R, Contento I et al., Coeliac disease: the association between quality of life and social support network participation. Journal of Human Nutrition and Dietetics. 2015 DOI: 10.1111/jhn.12319
---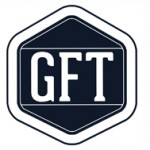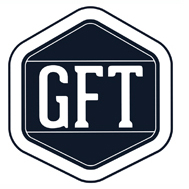 This original article is made possible by Gluten Free Therapeutics. Our mission is to educate, inform, and provide the most effective nutritional products possible to allow those with celiac disease and serious gluten intolerances to heal their bodies. CeliVites complete line of superior gluten free supplements includes multivitamin/multimineral supplements, iron supplements, and calcium supplements for people living with celiac disease. All CeliVites products are designed to help you heal, restore and rebuild your body, because going gluten free isn't enough! 
Comments ()