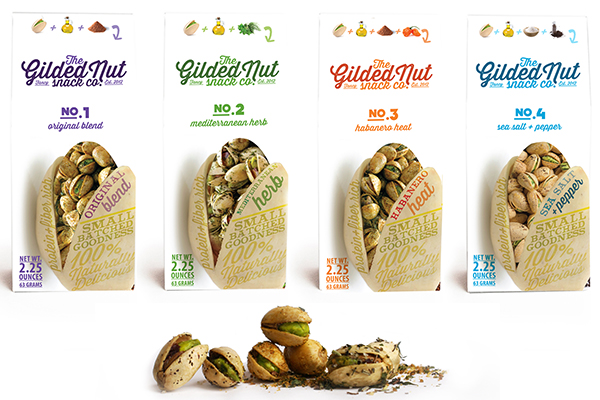 #GF #FollowFriday: Maine's own The Gilded Nut Snack Co.
#GF #FollowFriday: Maine's own The Gilded Nut Snack Co.
We are bringing back our #FollowFriday feature we promoted during Celiac Awareness Month in May. We really enjoyed highlighting local Maine business that were doing gluten free and doing it well.
In this Friday's edition, we are talking about The Gilded Nut Snack Co., from Portland, Maine. The company has a Kennebunkport connection, Gluten Free Therapeutics' hometown: The Gilded Nut Snack Co. was officially launched at the 2013 Kennebunkport Food Festival.
Catherine York, co-founded of the company with John Powers and playfully calls herself a "Nut Pusher."
She describes the company as "a non-GMO, gluten free, health snack producer, specializing in savory seasoned pistachios."
Marin Food Specialties in Byron, California tested the snack using a Gluten-Free Certification Organization Approved Testing Kit. The result was negative for gluten at 5 parts per million, well below the new FDA standard of 20 PPM. 
Each of the four varieties of The Gilded Nut offer jumbo California pistachios naturally opened, first coated in extra virgin olive oil and tumbled in herbs and spices. Flavors include Mediterranean Herb, Habanero Heat, Sea Salt + Pepper and Original Blend, the latter is described as garlicky and smoky with just a little heat.
Pistachios are cholesterol free, heart-healthy and rich in protein and fiber. The savory snack is also dairy and soy free.
York has a dairy allergy, is gluten sensitive and chooses to eat organic and non-GMO. She is very ingredient conscious when choosing what she eats, and she held The Gilded Nut Snack Co. to the same standard.
In fact, Powers created the snack with York in mind, making sure it would be something she could eat, as well as keeping it healthy.
York loves Gluten Free Therapeutics' emphasis on using the highest quality ingredients and transparency about what's actually in the product.
Like GFT, The Gilded Nut Co. shares a similar philosophy. "People want real, whole ingredients," York said.
York explains that The Gilded Nut Snack Co. has a social media presence but it's not all about their product. She is active in promoting gluten free and non-GMO lifestyle as well.
Looking to the future York doesn't see the company limiting itself to just pistachios.
"Any smart food companies are always in development."
Follow The Gilded Nut Co on Facebook, Twitter and find your nearest retailer!
---
This original article is made possible by Gluten Free Therapeutics. Our mission is to educate, inform, and provide the most effective nutritional products possible to allow those with celiac disease and serious gluten intolerances to heal their bodies. CeliVites complete line of superior gluten free supplements includes multivitamin/multimineral supplements, iron supplements, and calcium supplements for people living with celiac disease. All CeliVites products are designed to help you heal, restore and rebuild your body, because going gluten free isn't enough! 
---
Comments ()