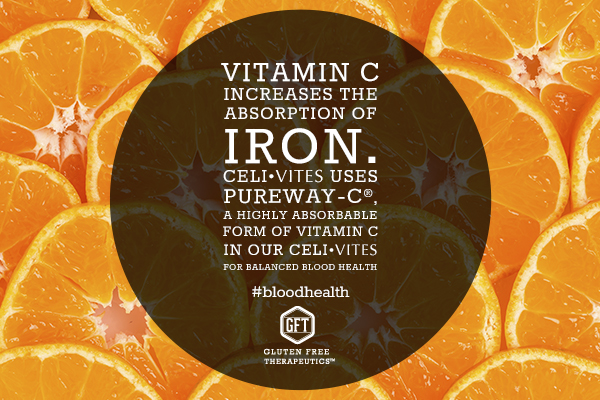 PureWay-C® is the difference for our Blood Health supplements
PureWay-C® is the difference for our Blood Health supplements
We continue to shine the spotlight bright on the quality ingredients in Celi•Vites for Balanced Blood Health, in celebration of Blood Health Month. Today we talk about vitamin C , why it was crucial that it was in included in our formula and what makes it superior to other blood health supplements.
As with every variety of Celi•Vites we create, each ingredient has been thoughtfully chosen based on clinical research to provide the greatest benefit.
We've included 200% of your daily value of vitamin C. For our form of vitamin C, we chose PureWay-C® a highly absorbable form of vitamin C. Its purpose is to help increase iron absorption, a key factor in supporting healthy red blood cell development.
In addition, research has shown that vitamin C increased cellular uptake of iron bound to transferrin, a protein that carries iron within the blood stream throughout the body. PureWay-C® has shown superior uptake, bioavailability and retention in cells when compared to other forms of vitamin C. That is why we chose the highest quality form available of this crucial vitamin.
We understand the struggle firsthand with anemia and celiac disease. We wanted to created formulas that would deliver the nutrients you need but are sensitive to healing guts. We created Celi•VItes for Balanced Blood Health that does not contain yeast, wheat, gluten, milk or milk derivatives, lactose, sugar, preservatives, soy, peanuts or tree nuts, artificial color and artificial flavor but does contain corn.
Learn more here!
---
This original article is made possible by Gluten Free Therapeutics. Our mission is to educate, inform, and provide the most effective nutritional products possible to allow those with celiac disease and serious gluten intolerances to heal their bodies. CeliVites complete line of superior gluten free supplements includes multivitamin/multimineral supplements, iron supplements, and calcium supplements for people living with celiac disease. All CeliVites products are designed to help you heal, restore and rebuild your body, because going gluten free isn't enough! 
---
Comments ()