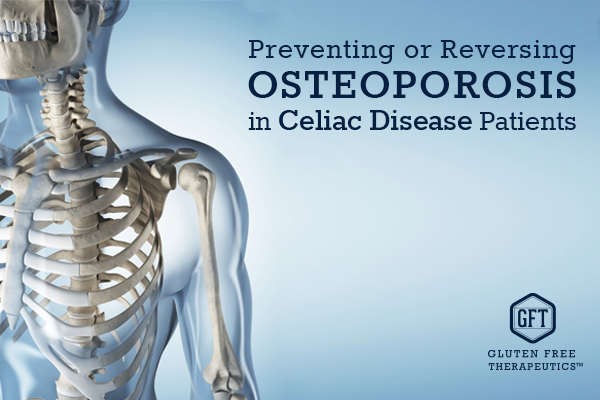 Osteoporosis is a common symptom of celiac disease
Research shows as many as a quarter of all people with celiac disease (CD) may also suffer from osteoporosis, a condition causing a loss of bone mass and density that often leads to fractures. Many more suffer from a milder bone loss called osteopenia, a precursor to osteoporosis. The high prevalence of both these conditions among celiac patients may not be surprising considering both are closely linked with deficits in key nutrients like vitamin D, vitamin K, calcium, magnesium and  potassium, all of which are absorbed through the small intestine. In celiac disease, damage to the small intestine makes it much more difficult for the body to absorb these nutrients.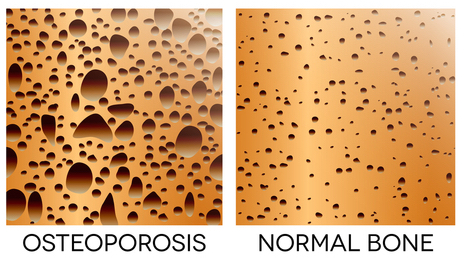 Interestingly, there's also a second mechanism at play in people who don't get enough bone-building nutrients: Because calcium and vitamin D play critical roles in many physiological functions, when the body does not get enough of these nutrients to perform those functions, it "borrows" calcium from the bones, leaving bones in an even weaker state. In people who have chronic nutritional deficiencies such as those that occur in CD, this borrowing mechanism increases the risk and bone loss, and the incidence of fractures.
In the U.S., about 10 million people in the U.S. suffer from osteoporosis, 18 million are at risk for developing the disease, and another 34 million are at risk for developing osteopenia, according to the American Academy of Orthopaedic Surgeons (AAOS). Every year osteoporosis causes about 9 million fractures throughout the world.
The National institutes of Health (NIH) considers the link between osteoporosis and celiac disease serious enough to warrant publication of patient guidelines on the management of the diseases. Chief among its recommendations: Take supplements to help ensure the body is getting enough calcium, vitamin D and other nutrients.

When nutrient absorption is compromised in the small intestine, the aim is to provide the body with the most easily-absorbed forms of nutrients so they have the greatest chance of making it into the bloodstream and the rest of the body where they're needed. Gluten Free Therapeutics CeliVites Bone Health supplements were developed specifically with the nutritional needs of CD patients in mind. They're far more than "just" another gluten-free supplement. CeliVites Bone Health uses highly absorbable forms of calcium, Vitamin D, Vitamin K2, magnesium and potassium at doses proven by clinical research to reduce bone loss and increase and bone density. For instance, the calcium used in CeliVites Bone Health is derived from both traditional calcium citrate and Aquamin®, a highly absorbable plant-based source of calcium, magnesium, and over 70 trace and ultra-trace minerals derived from plankton harvested from the waters off the Icelandic coast. In murine studies, Aquamin® was shown to reverse the bone loss associated with Western diets. Further, in a clinical study, postmenopausal women taking 180mcg of Vitamin K2 as menaquinone-7 over a three year period, the same dose provided by Bone Health by CeliVites, had decreased bone loss.
All the ingredients in CeliVites Bone Health supplements were chosen for their high absorption to maximize the health benefits they provide for patients with CD. To learn more about CeliVites Bone Health supplements, click here. And to see the complete lineup of supplements developed specifically for people with CD, visit the products page at the GFT website.
---
This original article is made possible by Gluten Free Therapeutics. Our mission is to educate, inform, and provide the most effective nutritional products possible to allow those with celiac disease and serious gluten intolerances to heal their bodies. CeliVites complete line of superior gluten free supplements includes multivitamin/multimineral supplements, iron supplements, and calcium supplements for people living with celiac disease. All CeliVites products are designed to help you heal, restore and rebuild your body, because going gluten free isn't enough! 
---
Comments ()