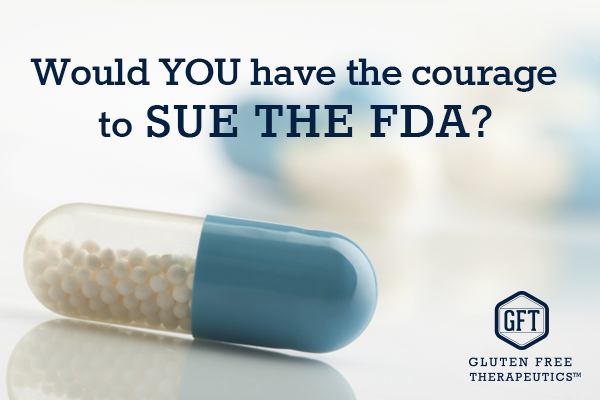 FDA being Sued for Ignoring Gluten in Medicines 
Seven years after petitioning the FDA to regulate the use of gluten in medicines Michael Weber has taken a bold step. He has filed a lawsuit against the FDA for failing to address his 2008 petition to exclude the use of gluten in all medications or as a secondary measure require the disclosure of gluten on drug labels. In 2011, the FDA sought public comments and we (GFT) participated by providing our point of view.
In a Wall Street Journal article dated 3/17/15 and written by Ed Silverman, Michael Weber's decisions and actions are documented.
We have reprinted the Wall Street Journal article at the end of this blog for the benefit of our readers.
At GFT we have both business and personal insights into the matter of gluten contamination in drugs. As a manufacturer of a supplement made for celiac patients we have strong views regarding this subject. No gluten ingestion is acceptable for people with celiac disease. We have an intimate understanding of implementing procedures to qualify and monitor the ingredient supply chain against gluten contamination. It makes ingredient sourcing more complex and can add expense. But it can be done. We do it with our supplements.
We have firsthand personal experience with the negative consequences of FDA's reluctance to address this issue. A family member with celiac disease had a car accident resulting in whiplash causing severe neck pain. A visit to the emergency room resulted in two prescriptions being written by the attending doctor. We knew that a generic drug would be difficult to trace. We told the doctor about our celiac disease and asked her to prescribe branded medications so we could verify the absence of gluten through the manufacturers. In spite of our request the doctor wrote us two prescriptions for the generic form of the prescribed drugs. When asked if she had researched them for gluten she said she could not help us with that. We began our search for reliable information regarding the possible presence of gluten in these drugs. We first had to convert the generic to a branded drug. We found all of the brands that made the drugs and called the makers. We found only one acceptable brand for each drug. We then called the doctor and told her what to prescribe and had her rewrite the prescriptions. This process took us three days! Three days of not having treatment for an injury that was acute enough to send us to the ER!
The current system discounts an entire population who cannot take drugs that contain gluten. It is unacceptable that every time a drug is prescribed for a celiac patient it leads to a long difficult search for information about the presence of gluten. The onus is put on the patient not the manufacture or the medical system to ensure the patients safety in taking their prescription. Not everyone has the resources or the knowledge to advocate for themselves. Hopefully with the publicity this lawsuit brings to this issue the FDA will look closely and require full labeling disclosure for both drugs and supplements just as they did with the recent food labeling law.
---
Wall Street Journal article, published March 17, 2015:
FDA is Sued for Failing to Regulate the Use of Glutens in Medicines
By Ed Silverman
What would you do if you are allergic to wheat gluten and, therefore, could not take certain medicines?
This is a dilemma for Michael Weber, who suffers from celiac disease, which is an autoimmune disorder that can occur in genetically predisposed people who ingest the protein. This can damage the small intestine and lead to neurological diseases, among other illnesses. However, the protein is sometimes used to coat prescription drug and over-the-counter medicine capsules, among other things.
After taking a generic drug seven years ago and developing side effects consistent with ingesting gluten, Weber petitioned the FDA to either eliminate wheat gluten in medicines or require new labeling on drugs containing the protein. The agency response has been slow. In 2011, the FDA sought public comments about the issue, but otherwise has not taken action.
So Weber has now filed a lawsuit to demand the FDA do something.
After taking the drug, "I called my pharmacy and they were not able to determine that drug was gluten-free," says Weber, a medical office assistant in Eastchester, N.Y. "So then I had to find which manufacturer produced the generic. I went to their website and then had to speak to somebody at the company. They said that was not a gluten-free batch… So I had to discontinue taking the drug. I would like to be able to take drugs and not have any fears or go through all these hoops."
In his lawsuit, he argues the failure to address the issue is hurting millions of Americans. About 1% of the U.S. population has celiac disease, according to the National Foundation for Celiac Awareness. "The absence of rules to address wheat gluten in prescription medications has serious and ongoing public health implications," says Katie Einspanier, an attorney at Public Citizen, which represents him.
An FDA spokeswoman wrote us that the agency does not comment on pending litigation. We also asked what, if any, steps the agency may take to alert the public to medicines that contain wheat gluten and will update you accordingly. In 2011, a paper issued by the FDA Office of Food Safety detailed the adverse effects people with Celiac disease can suffer from exposure to gluten.
It's not clear exactly how many medicines contain wheat gluten. A list maintained by Steve Plogsted, a nutrition support pharmacist at Nationwide Children's Hospital in Columbus, Ohio, shows the protein is found in more than 150 prescription and OTC medicines. He tells us he obtains information from drug makers and government sources, and does this on a voluntary basis without funding.
Recently, the drug information service at Robert Wood Johnson University Hospital in New Brunswick N.J., began a database. But in a recent essay in the American Journal of Health-System Pharmacy, researchers noted most drugs "cannot be considered truly gluten free due to the lack of final product testing" and some drug makers could not verify the absence of cross-contamination during production.
"Unfortunately, there is no clear answer to the question of the prevalence of gluten in either OTC or prescription medications," a spokeswoman for the National Foundation for Celiac Awareness writes us. "This highlights "the need for comprehensive research to identify safe thresholds of gluten in medication, its impact on people with celiac disease, and the pervasiveness of gluten" in production.
Meanwhile, spokespeople for the Pharmaceutical Research & Manufacturers of America, which represents prescription drug makers, and the Consumer Healthcare Products Association, which represents over-the-counter medicines, declined comment regarding the lawsuit and say they are uncertain how many of their members use gluten in their products.
In comments made to the FDA in 2011, the CHPA said the amount in OTC drugs where gluten "is not intentionally added is minute, especially when compared to the intake via the food supply." The trade group also argued, though, that "banning use of specific grains would disrupt the supply chain, resulting in major reformulation of products.
"Reformulation to ensure elimination of gluten would have significant consequences to manufacturing cost and resources," the trade group continued, adding that cross contamination could still occur. The CHPA, however, did suggest that labeling – such as the information provided for people who may experience allergic reactions – would be worth discussing.
Source: Wall Street Journal | Pharmalot March 17, 2015 
---
This original article is made possible by Gluten Free Therapeutics. Our mission is to educate, inform, and provide the most effective nutritional products possible to allow those with celiac disease and serious gluten intolerances to heal their bodies. CeliVites complete line of superior gluten free supplements includes multivitamin/multimineral supplements, iron supplements, and calcium supplements for people living with celiac disease. All CeliVites products are designed to help you heal, restore and rebuild your body, because going gluten free isn't enough! 
---
Comments ()