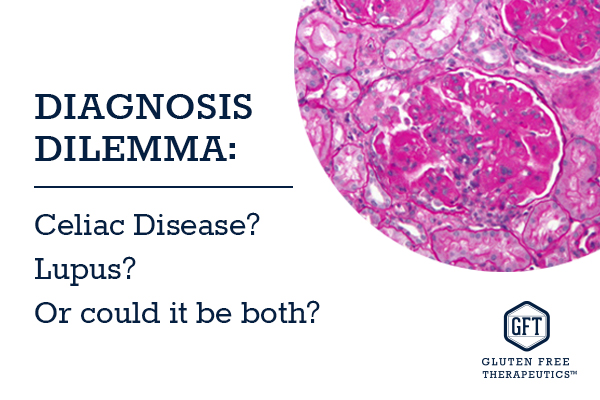 Are Celiac Disease and Lupus Connected?
The possible connection between celiac disease and lupus
Clinical research suggests between two and three percent of people with celiac disease also have systemic lupus erythematosus (SLE or lupus), an autoimmune disorder which shares similar biomarkers as CD. While the celiac disease and lupus connection is not entirely unexpected , multiple studies have shown that celiac disease often occurs in the presence of other immune-mediated disorders,  that doesn't mean it's always easy for celiac patients to get the correct diagnosis of lupus, even in the presence of blood tests that reveal relevant biomarkers are present.
That's because celiac disease, lupus and other diseases shown to have a higher correlation with CD involve the immune system, an incredibly complex system that affects so many other systems and functions and includes so many variables, it can be difficult to "tease out" which disorder is actually present. Plus, because studies have shown its common for more than one immune disorder to occur diagnosis is even more problematic. Even when celiac disease is not present, lupus is often confused with rheumatoid arthritis which also has similar symptoms. Lupus is a complex and unpredictable disease making it challenging to diagnose. The most common symptoms of lupus include but are not limited to extreme fatigue that doesn't go away with rest, joint pain, stiffness, and swelling in two or more joints, fever over 100°F, muscle pain, hair loss, skin sores and rashes (which may occur in a butterfly-shaped pattern across the cheeks and nose), nose or mouth sores (usually painless), skin rashes after sun exposure.  Some symptoms are similar to those of celiac disease. Click this link for a detailed list of the common symptoms of celiac disease.
At least one study suggests the problem in diagnosing lupus in celiac disease patients is because lupus may develop later on, and when an earlier series of tests doesn't find evidence of the disease, it's essentially crossed off the list of potential culprits. That study also recommends a longer period of follow-up and re-testing to determine if lupus develops over time.
Interestingly, a separate study suggest an opposite problem: celiac disease "masquerading" as lupus, which means some people who have been diagnosed with lupus may actually suffer from CD  and not getting the correct treatment.
If you have celiac disease and you're experiencing symptoms of lupus but you've not yet been diagnosed (or vice versa), it's important to find support, keep visiting our blog  and to continue to speak with your doctor about existing and emerging studies that show a direct link between the two conditions. You need to offset the effects of celiac disease to the greatest extent possible, and that means making sure you get the right nutrition. That's why Gluten Free Therapeutics developed CeliVites  to help celiac patients get the nutritional support they need to stay as healthy as possible.
This original article was created by Gluten Free Therapeutics, Inc. the makers of CeliVites. It is our mission to provide safe and effective nutritional supplements and to research important CD topics in an effort to inform and educate our customers.
---
This original article is made possible by Gluten Free Therapeutics. Our mission is to educate, inform, and provide the most effective nutritional products possible to allow those with celiac disease and serious gluten intolerances to heal their bodies. CeliVites complete line of superior gluten free supplements includes multivitamin/multimineral supplements, iron supplements, and calcium supplements for people living with celiac disease. All CeliVites products are designed to help you heal, restore and rebuild your body, because going gluten free isn't enough! 
---
Comments ()