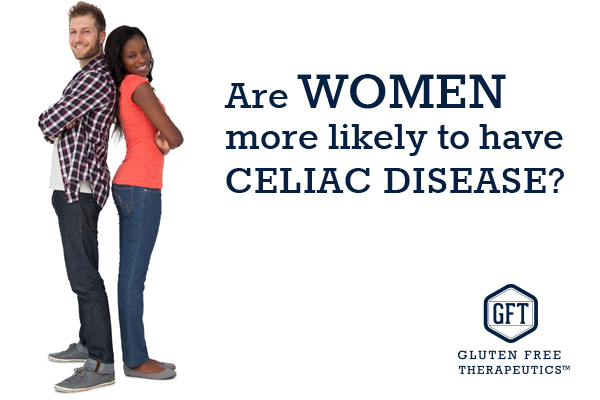 Celiac Disease and Gender
By Alex Reis PhD, GFT science writer
Celiac disease and gender differences
Whichever way you "travel" from Australia to the United States – with a detour via Denmark or even Saudi Arabia or Argentina, if you look at the incidence of celiac disease in countries around the world, you will spot a bias towards more cases being detected in women. Results vary widely from a marginal difference to the majority of cases, but it's always true that females are more likely to receive a celiac disease diagnosis than men.
This difference is already visible in children, but it becomes particularly apparent during early adulthood. For example, one study detected less than 20% of male patients with celiac disease between the ages of 18 and 29, which was also the age group were the majority of new cases in adults were detected.
Why are women more likely to be diagnosed with celiac disease?
This female one-sidedness is very difficult to explain. To add to the confusion, studies have identified similar rates of celiac disease-specific antibodies in both men and women when analysing the general population. In theory, this means physicians should encounter comparable rates of celiac disease, but that is not the case.
What can be causing this difference?
It turns out symptoms are not only more frequent in women than in men, but they're also much more severe and quick to develop. Examples include anemia, indigestion and genital disorders. In most cases this dangerous combination is what drives women to seek medical assistance, whereas milder cases of celiac disease in men remain undiagnosed.
In addition, especially during their fertile years, it is more likely that women are faced with some form of health care, such as pregnancy support or gynaecologist visits. These encounters may lead to a – sometimes inadvertently – celiac disease diagnosis even in the absence of symptoms.
On the other hand, (most) men are known for their "aversion" to see a doctor. To complicate even further, when a bad stretch of abdominal pain or other digestive issues leads them to a physician's practice, their doctor is less likely to prescribe a duodenal biopsy. In fact, many still hold the belief that celiac disease only affects women. The main issue here is that low rates of duodenal biopsy among men inevitably results in fewer diagnoses, further reinforcing the notion that men are less likely to develop this condition.
Somewhat counter-intuitively, but smoking seems to offer another possible explanation for this male-female puzzle: some results suggest that smoking actually protects against gluten intolerance and delays the development of any symptoms. Analysing locations where this habit is almost entirely a male attribute, researchers have speculated that these gender differences towards a cigarette may have contributed to lower rates of diagnosis among men. However, further studies are needed to identify whether this relationship is real, and if so, what is its scientific explanation.
It's impossible to determine for sure, but estimates point to around 7-10 undiagnosed cases for each patient that is diagnosed with celiac disease. Not surprisingly, these undiagnosed occurrences are probably young men and many researchers are calling for more emphasis to be put on developing better ways to detect these cases of celiac disease.
---
This original article is made possible by Gluten Free Therapeutics. Our mission is to educate, inform, and provide the most effective nutritional products possible to allow those with celiac disease and serious gluten intolerances to heal their bodies. CeliVites complete line of superior gluten free supplements includes multivitamin/multimineral supplements, iron supplements, and calcium supplements for people living with celiac disease. All CeliVites products are designed to help you heal, restore and rebuild your body, because going gluten free isn't enough! 
---
REFERENCES
Vazquez H, Smecuol E, Flores D, Mazure R, Pedreira S, Niveloni S, Mauriño E, Bai JC. Relation between cigarette smoking and celiac disease: evidence from a case-control study. Am J Gastroenterol. 2001;96(3):798-802.
Dixit R, Lebwohl B, Ludvigsson JF, Lewis SK, Rizkalla-Reilly N, Green PH. Celiac disease is diagnosed less frequently in young adult males. Dig Dis Sci. 2014;59(7):1509-12.
Bai, D, Brar, P, Holleran, S, Ramakrishnan, R, Green, PHR. Effect of gender on the manifestations of celiac disease: evidence for greater malabsorption in men. Scand J Gastroenterol 2005;40:183-187
Juel, K, Christensen, K. Are men seeking medical advice too late? Contacts to general practitioners and hospital admissions in Denmark 2005. J Public Health (Oxf) 2008;30:111-113
Mäki, M, Mustalahti, K, Kokkonen, J. Prevalence of celiac disease among children in Finland. N Engl J Med 2003;348:2517-2524
Murray, JA, Dyke, C, Plevak, MF, Dierkhising, RA, Zinsmeister, AR, Melton, LJ. Trends in the identification and clinical features of celiac disease in a North American community, 1950–2001. Clin Gastroenterol Hepatol 2003:1:19-27
Ciacci, C, Cirillo, M, Sollazzo, R, Savino, G, Sabbatini, F, Mazzacca, G. Gender and clinical presentation in adult celiac disease. Scand J Gastroenterol 1995;30:1077-1081
Lockshin M. Sex differences in autoimmune disease. Lupus November 2006; 15: 11753-756
Rutz R, Ritzler E, Fierz W, Herzog D. Prevalence of asymptomatic celiac disease in adolescents of eastern Switzerland. Swiss Med Wkly. 2002;132(3-4):43-7.
Aljebreen AM, Almadi MA, Alhammad A, Al Faleh FZ. Seroprevalence of celiac disease among healthy adolescents in Saudi Arabia. World J Gastroenterol. 2013;19(15):2374-8.
Gomez JC, Selvaggio GS, Viola M, Pizarro B, la Motta G, de Barrio S, Castelletto R, Echeverría R, Sugai E, Vazquez H, Mauriño E, Bai JC. Prevalence of celiac disease in Argentina: screening of an adult population in the La Plata area. Am J Gastroenterol. 2001;96(9):2700-4.
Wingren C, Agardh D and Merlo J. Sex differences in coeliac disease risk: A Swedish sibling design study. 2012; 44(11):909–913
Mora M, Litwin N, Toca M, Azcona M, Neffa R, Battiston F, Solaegui M, Ortiz G, Wagener M, Olivera J, Marchisone S, Oropeza G, Bastianelli C, González A and Rezzónico G. Prevalence of celiac disease: a multicenter trial in pediatric population from five urban districts of Argentina. Arch Argent Pediatr 2012;110(6):490-495
Mahmoodi A, Jafarihaydarlo A, Yasemi M, Hemati K and Peyman H. Celiac Disease Prevalence in the Patients with Irritable Bowel Syndrome in the Ilam Province; A Cross Sectional Study from Western Iran. Journal of Clinical and Diagnostic Research. 2014;8(12): GC01-GC03
Comments ()